Thanksgiving has come and gone. I got up early that morning to stuff the turkey and pop it in the oven to cook. Six hours later we drove through the pouring rain to Seattle and the family gathering at the ward buillding. My niece Heather brought her turkey to be cooked there.
We first began having our Thanksgiving at the church the last one that mom was with us. We didn't know she had cancer at the time, but we knew something wasn't right. We've been having it there ever since.
The kids lining up for the food.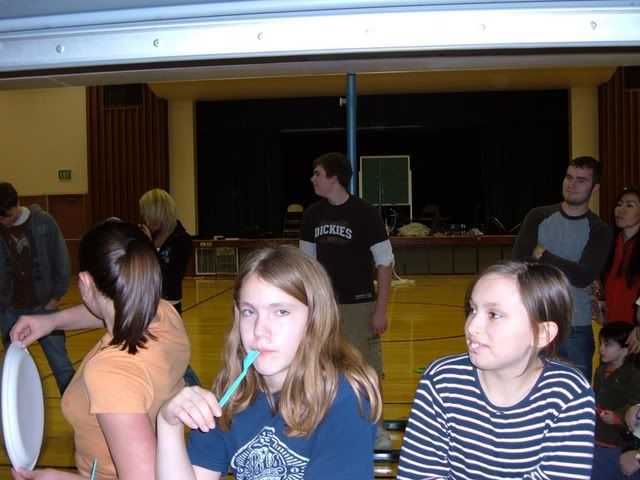 My nephew Chad has a hard time at family gatherings because he misses his Nanny (my mom) so much. My sister Julie tried to comfort him.
My father fed my sister Cheri her dessert, as she has trouble feeding it to herself at times. Here he was teasing her with the bite of pie.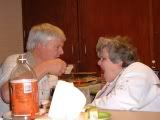 My nephew Cody and my sister Cheri have a special relationship. He teases her and she loves it. At times that day he'd come behind her, shake her wheelchair up and down and she'd be laughing so hard. She sure loves him.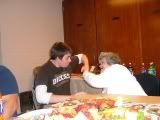 Here is my nephew Justin, his wife Aya and their son Kai. When Justin was in highschool he lived with us for a time.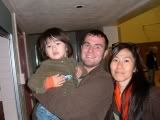 Today, traditionally called Black Friday, Ashley and I did some retail therapy while Lance took the other three kids up to Crystal Mountain for some skiiing and snowboarding for the day. We saw the movie
Flicka
and we both cried, of course. Our day of retail therapy involved Ashley getting a hair cut and a lovely doo at a salon
I'm not sure she was too pleased at first.
Later on she perked up.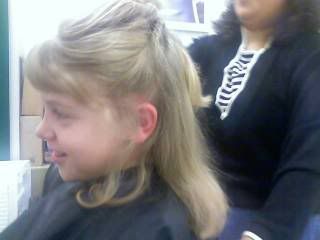 We arrived home moments after the skiers did and celebrated with a glass of egg nog.
All in all, not a bad way to spend two days. Now forgive me. I'm going to sleep for awhile.
yawn