I slept this morning. I mean after I got up at five a.m. and made chocolate chip pancakes for The Man Child, and got the girls up and ready for school and made their lunches, brushed their hair and got them on their school bus, I went back to bed. Until noon. I know I shouldn't have, but sometimes I just feel so overwhelmed with life and my response? I go fetal under the blankets and disappear.
Everything that was there before is there when wake up, so it's not like it's helping anything. Sometimes it just feels good to be unconscious.
Then I had a busy afternoon because I watched my niece's six month old baby girl and her two year old boy. Taylor is the baby and Jared is the two year old wild child. He never sits still, and I do mean
never
. He smacked his sister on the head and I sternly told him that was a no-no. His lower lip quivered and his eyes filled with tears, but he never cried. He
did
sit still on the couch after that for a bit.
Here's Ashley holding baby Taylor and Jared sitting quietly.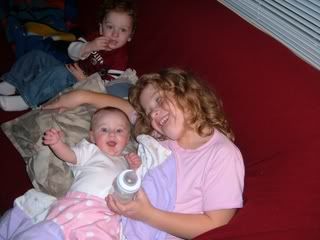 I made tacos for dinner and aftewards we all sat in the living room by the fire and played with the kittens for a bit. Here's a picture of my husband Lance with our dog Cassie checking out the babies.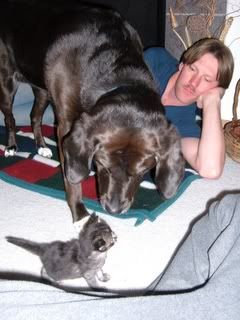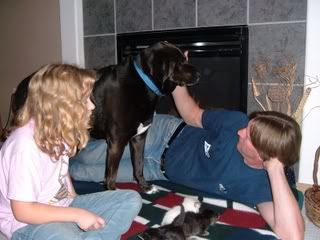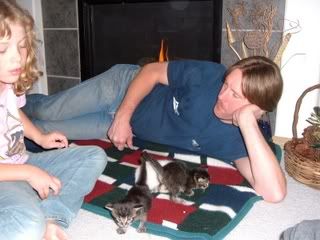 The mommy kitty was getting agitated so we put them back in their room after a bit.
I'm going to try very hard not to go fetal tomorrow. Wish me luck.