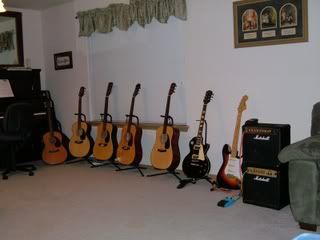 There are six people in our house. There are eight guitars in our house. You do the math. Hubby took this picture of some of the guitars lined up near our piano for a friend who wanted to see 'em.
Today I had two appointments, only one of which I enjoyed. My son drove me to and from one appointment as I was impaired due to meds taken before and during the dental appointment. I have issues with sharp pokey metal things being scraped against my teeth. The dentist I went to was soooooo nice. He explained everything he was doing before he did it. He even
called
me this evening to see how I was doing. I've never ever had a doctor call me to see how I was doing. That impressed me.
My next apppointment was for getting my hair done. I fell asleep under the hot dryer. No, I really did. I've never done that before. I know some of it was the medication I was on earlier.
Now I have shorter and darker hair and a future full of sitting in a dentists chair getting extractions, dental implants, fillings and repair work done.
I think I'm going to need a lot more medication.