Today I was awakened to the not-so-delightful sounds of enormous dump trucks, (you know the ones that are a dump truck
and
they haul a trailer behind?) dumping truck load after truck load of dirt behind my house. Then the most incredibly noisey and squeaky (do they not grease the tracks on those things??) grader began shoving the dirt and rocks around. I had to fight the urge to throw a can of WD40 over the fence to the driver.
It wasn't even eight in the morning. It wasn't even 7:30 yet.
So I reluctantly arose from my bed and cleaned up the kitchen. After it was spotless, I went back upstairs to my freeze-zone (the only room in the house with AC) to do some online banking and make calls to check on medical bills, etc. As I was finishing up, in walks my husband!
At first I had a moment of Oh-no-he's-lost-his-job terror. Then it passed after he smiled. Seems they ran out of work for the day. Odd, but then that's Boeing.
So hubby was roped into going school clothes shopping with me and our two youngest. Yay! I really detest doing this (I'm not a shopper) and it was nice to have him along. First we drove down to Olympia so I could retrieve a thick stack of copied material from the Thurston county Sheriff's office that I'd ordered. Then we went off to Chehalis to the outlet malls there.
Outlet malls are a joke. No deals, just over priced stuff in cute little stores. So we drove a bit further south and shopped somewhere else.
On the way home Allison put her head out the window and I caught a picture of her with my cell phone camera. Here she is....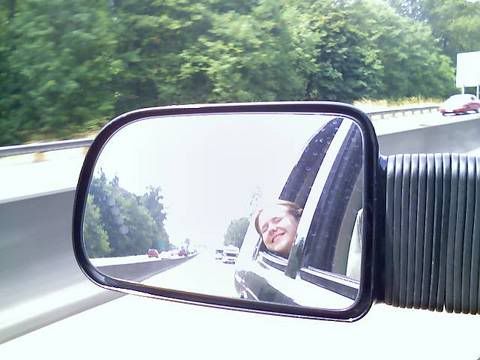 Now hubby is downstairs replacing our door knob and dead bolt as it appeared to have been damaged by someone attempting to break into our house. No one got in, but they ruined our lock.
I'm off to fold some laundry (oh the thrill) and then do some reading of the crime investigation paperwork. No wonder I'm having nightmares. :::shudder::