I'm being treated to my husband and son playing that song on their guitars as I sit upstairs folding laundry. Well, now I'm blogging but I was folding laundry. Hard to blog when you're folding. I'd love to sing along, but my voice isn't up to it today.
I spent the day mostly fetal. I wrote a column and sent it off to my editor, then went back to the fetal position and dreamed of driving my vehicle with brakes that didn't function. It was a very calming dream. Oh yes, very.
I managed to get up and go vote and then bought myself some Nyquil. Had to charge it, cuz payday isn't until Thursday. I was trying to hold out but I just can't anymore. I need to get some rest tonight.
Did I tell you that my father set his kitchen on fire? Yep. He did. He happened to be on the phone with my sister, who lives about fifteen or twenty minutes from him at the time. He was talking to her, then shouted
"FIRE!"
and the phone went dead. She called back, no answer, she kept calling, she called the neighbor next door to him and was putting on her shoes to go down there and preparing to dial 911 when he called her back.
Seems he'd turned on the wrong burner, the one with papers and stuff ON it. His house was filled with smoke after he got the fire out so he opened all the doors.
I worry about this man. What if he'd been asleep? He falls asleep at the drop of a hat lately. I worry. I really do.
Thankfully he wasn't hurt and the damage isn't too bad.
Oh yeah, this is going to be fun.
I talked to my lovely and talented mother-in-law this evening. (
Hi Mom!
) I got her recipe for corn pancakes so I could make them for dinner tonight. She is the most amazing cook.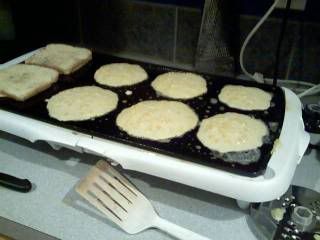 They were sooooo yummy! Oh man, mouth-wateringly delicious. I made a double batch and they were gone in a flash. Thanks for the recipe, Mom!