Last night Lance and I drove to Poulsbo to have dinner at Aunt Judy's house. Doug, Lance's dad, was up from Oregon and he was the chef. Kathy (Lance's sister) came as well. She took a ferry boat, we drove around.
Sitting around, talking, laughing. It was a delightful evening. When we get together we always have such a good time and say that we should get together more often throughout the year. Perhaps this will happen now that Doug is planning on moving to Judy's house mid-January.
Doug is a fantastic cook. He made lamb tetrazinni.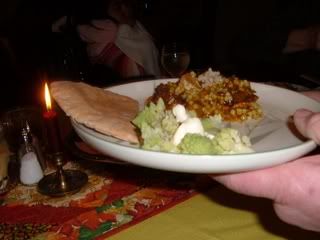 I apologize for the following picture, in that some eyes are closed, but it's the only picture I took. Left to right, Lance, Aunt Judy, Doug and Kathy.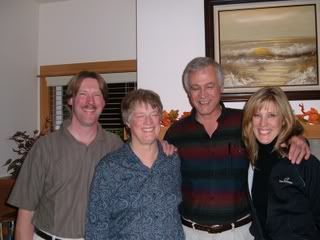 On the drive back we listened to music, we talked, we sang, we talked some more. We realized that it's been an awful long time since we took the time for a date. The time driving home was punctuated by phone calls from the kids of course.
"Mom? We're bored"
"Mom, where are you?"
"Mom!! When are you gonna get home?"
And so on.... I could have turned my phone off, but I didn't. Their voices sound so sweet on the phone, even when they're interrupting a date.