The candy has been collected into orange plastic pumpkins and they are sitting in my bedroom. So much was eaten last night, I wasn't sure the kids would ever go to sleep. They picked a few pieces out to go in their lunches. Chris came home with a huge sack of goodies from his trick or treating escapades. He wore the most frightening of all costumes ~~The Teenager. He went with his buddies into the gated communities here, where they were given full size bars of chocolate, none of those itsy bitsy *fun* size candy bars for those people. They're rich and they can afford to give out the good stuff.
Me? I handed out Reeses miniature peanut butter cups and smarties to the flocks of children that knocked on my door. I gave them handfulls of the stuff, so that's
sort of
like giving out the big bars, right?
Yeah, I think so too.
Here's a picture of Ally, Ashley, Dillon, Daniel and Jen. Jen was dressed in her husband's army clothing, right down to the boots.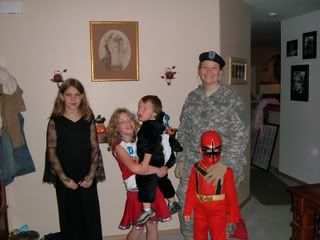 Dillon had a slight meltdown here.

Here's Jen with her boys. I got to have the boys with me all day and it was heaven. I sure miss them.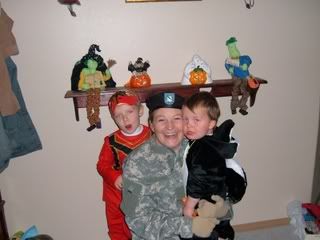 Sorry Tommy. No pictures of the Suburban housewife. She was far too frightening for the camera.