The girls had fun with creamsicles yesterday. From left to right, Ashley,Allison and niece Nicole. I didn't know they had raspberry creamsicles before yesterday. Yes, I've been living in a cave, why do you ask?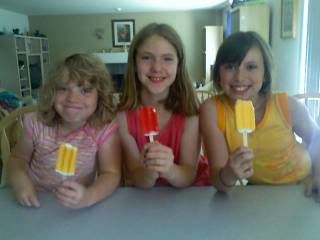 The girls took a break between trampoline jumping marathons and hosting three lemonade stands in front of our house. They made $6.81 for their work. Not too bad, considering it was a quarter a cup. I'm sure the neighbors love paying for our orange juice drink mix.
We're off to church. Today is going to be a scorcher and the air conditioning still isn't hooked up. Someone shoot me.