Today has not been a stellar day.
It was the last day of school, which was fine. There was apparently an armed man running around, so my girl's elementary school was placed into lockdown and according to my girls, lots of kids were crying and scared and I don't blame them. I took them home early.
But not because of that.
First, let me say that I did make it to the gym this morning, which was good. Then I went off to buy some unmentionables, as I needed new unmentionables. While I was there, my cell phone rang and it was my seventeen year old, demanding to know where I was.
She and three of her friends were going to our beach cabin for a celebratory over night stay, and I was to drive ahead of them to show them the way. (She of course thought this was silly and that I didn't trust her, yada yada yada)
So we drive. it's about a two hour drive. As we're driving, a rather large bug splattered my windshield and for some reason I kept thinking how horrible that was and I felt so badly. For a bug. Honest. I thought it's really true, sometimes you're the windshield and sometimes you're the bug.
Then I looked at the beautiful scenery that I was driving through. Not much in the way of houses, fairly rural and thought about next week when I begin my three thousand mild adventure, driving through several states with just me and the kids. Then I looked around and thought.."Gee....I wonder how I'd handle a flat tire out in the middle of nowhere?"
BOOM!
I kid you not.
At first it didn't dawn on me. I thought, wow, this is really a bad road. Then I thought...this is a really
really
bad road. Then I realized it had nothing to do with the road.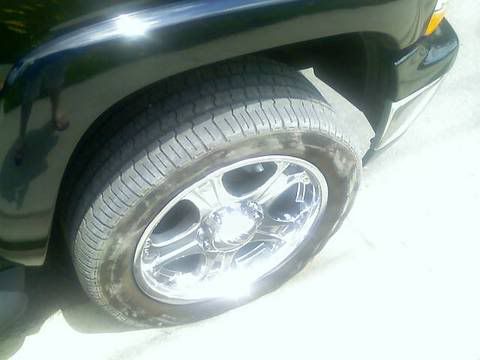 You can't really tell from this picture, but it was a very, very flat tire. Thankfully my exit had come up, I wobbled off and down a hill a bit before coming to rest against a curb.
My wonderful daughter and her carload of friends pulled in behind me.
"Mom, you have a really flat tire! Hey, can we just keep going?"
Um, no. You go find me some help. (This was after I considered whapping her senseless and then realized she was
already
senseless.)
She went, only because three of them needed to look for a bathroom. They found a Goodyear Tire place at the bottom of the hill and to the right. She called me on her cell and I told her to give the phone to the guy behind the desk. I explained what was wrong and was there anything they could do for me?
"I knew these girls were trouble when I saw them come in here giggling", said the man.
He said he could have someone to me, but not right away. No problem, I was just glad there was help on the way.
They sent me someone who flunked out of Tire Changing School.
:::Hmmmm....that doesn't look like a flat tire to me::::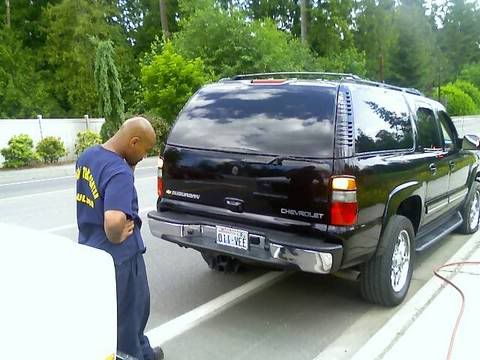 Um, no, that's because the flat tire is ON THE FRONT OF THE VEHICLE!!!
Then he attempted to free the spare tire from my suburban. This did not go well. In fact, this did not go at all.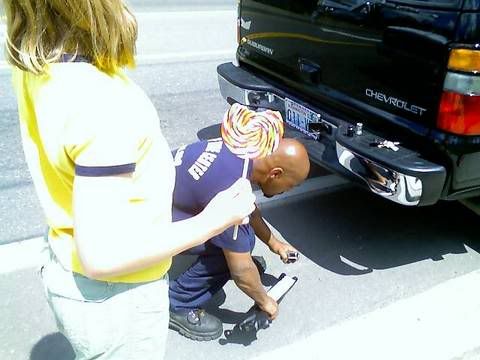 He finally admitted defeat and said he could pump some air into the flat tire so I could limp it down the hill.
That didn't work either.
Then he went back to looking for a way to get my spare tire from my suburban. Nope.
Hey, what's this? How about I remove the tire, take it back to my shop, remove the bad tire, put another tire on the rim and you can pay me for a new tire.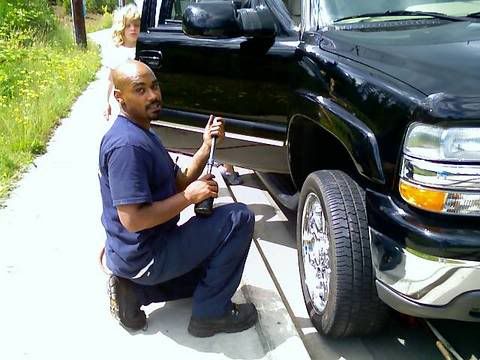 This is nearly two hours into it and I would probably have agreed to cut off my right arm to get out from the hot sun and on my way again. Could he get my flat tire
off?
Well, of course not.
This is when I killed him.
Ok, not really, but I was tempted.
Then he left again. He came back fifteen minutes later with something he said he'd taken from his boss. Whatever it was, didn't work either.
Tick tock, tick tock. By this time I am sunburned. I think it might be coming from the heat inside my head.
Finally, he was able to get the tire off. A miracle.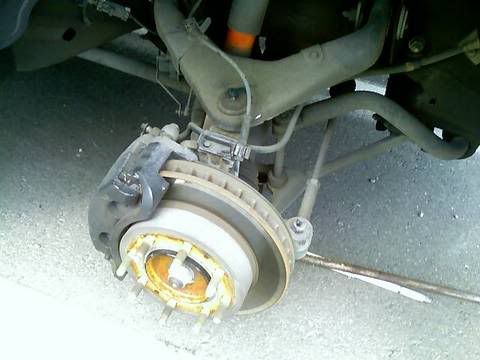 He took the tire down to his shop, put a used tire on, brought it back and put it on my vehicle.
All this took a mere three hours.
Next time I think about 'what ifs' it won't be about flat tires. I'll be thinking about the lottery.
We went to the beach cabin just long enough for my two girls to dip their feet in the water and for me to search for the meaning of life in the waves crashing on the shore.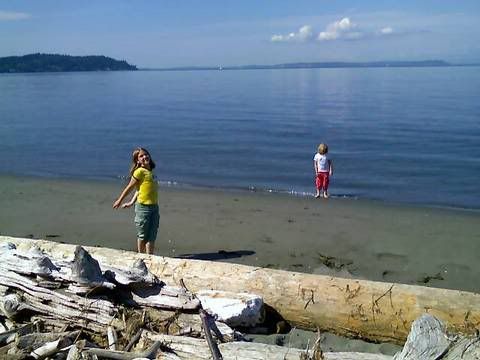 The girls and I took a ferry back to Seattle, had dinner with my sister and my dad, then they decided they wanted to stay there. I drove home alone, the sunroof open the stereo cranked up about as high as it could go.
When I got home it was time to hug and kiss my friend Dan. I suppose I'd been a bit over stressed all day and had kept it all in, because it all came out as I said goodbye to Dan for a year. He's shipping out to Iraq and it hurt my heart to give him one last hug. I couldn't stop crying.
All in all, there are a lot worse things than having a flat tire fixed in three hours flat.