Our first adventure on the road occurred an hour and a half into the drive. Long enough for me to feel a little sleepy. All the kids were asleep when there was a loud BOOM!
A large truck a little ahead and to the right of us had blown a tire. And I do mean blown. Large chunks of rubber came flying at me as I swerved to avoid hitting them. The noise had awakened two of the kids, my mad driving woke the remaining two.
"Whoa, what was that?"
"The semi blew a tire in front of us"
"Whoa"
Yeah, whoa. Now I was awake. Thankfully I missed most of the larger pieces of rubber and we kept on keeping' on. For another twelve hours or so.
I was delightfully surprised to find few complaints were made by the children, except to say that they needed a potty break or they were hungry.
There was no fighting. For a while I was uncertain as to whether or not I had packed the right children when I left home.
On our second leg of the journey, from Pocatello to Salt Lake City, they confirmed their parentage by first complaining about the temperature.
"It's HOT IN HERE!" snarled my eldest daughter, sitting beside me in the shotgun seat.
"I'm cold!!! Turn off the air conditioning! I'm so c-c-c-old!" This from Allison, seated behind me. I told her to get her blanket and wrap up. Of course this entailed moving to the back seat and leaning over her sleeping brother. This woke up the sleeping brother, who did not take kindly to having his nap time interrupted by his little sister. I'm certain had we not been hurtling down the road at close to eighty miles an hour, the confrontation would have deteriorated into shoving.
"Knock it off, sit down and belt up!" I yelled to the back.
They did. Eventually. Then Allison was so cold she put her quilt up over her head. Ashley was convinced that her sister was about to smother to death, so she yanked the blanket from her head. This elicited yelling from Allison and return yelling from Ashley saying she was only trying to save her life.
I told Ashley that Allison was in no danger of suffocating and to put the blanket back over her head as she wanted to stay warm.
Then number one son got into the complaint game.
"Why can't you fly me home with Stephanie? I don't want to be here"
I'd LOVE to fly him home. I would if it didn't cost so much. If he keeps up this line of behavior I may smack him so hard that he flies home without benefit of an airplane.
He was having a great time right up until Jared left to go to a baseball tournament in Boise. Jared is the son of my friend Genea Erickson, who used to live in Seattle near us and now resides in Chubbuck, Idaho. It was her house we were staying at for a few days.
Jared and Chris had spent two days four wheeling up in the hills outside of town. I knew they'd have fun, because each time they came home they were covered in dirt from head to tow and grinning like mad. Nothing makes boys happier than getting dirty at top speed.
Here are the two boys as they stumbled from bed after staying up till 3am playing video games. Mine is the one on the left.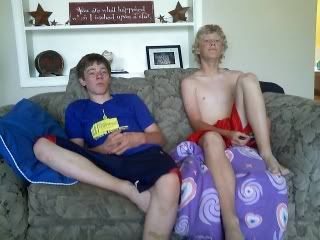 Later in the morning, Stephanie decided to squash Allison on the couch. Not sure why. Perhaps this is a new sisterly bonding ritual.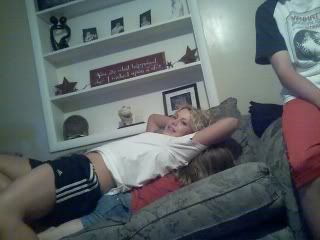 The second day in Pocatello we drove up to Rexburg to check out BYU Idaho for Stephanie. While we were there, Geanea decided that we should play a game in which we stopped random cute guys, tell them we have a bet to see how many pictures we can get with Stephanie and hot guys. We found two. They were laughing, so it was fun.
While we were there we had to stop at DQ for ice cream. Here is Allison, Ashley and Bryce in the back seat eating their cones.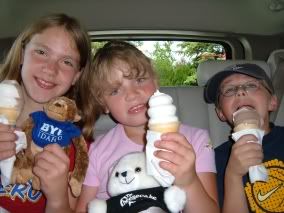 So now we're in Utah, staying with Annabella. They hosted a HUGE barbecue for us tonight, with lots of their friends. Tomorrow night we're going to a Quince then Saturday we're going to their friend's Brazilian restaurant to watch the soccor game between Brazil and France. Guess who we're rooting for?
And lastly, you can take a girl from her home, but you can't separate her from her cell.