The night after the big party at our house, a nearly full can of rootbeer jumped to it's death from our dresser around midnight. I heard it go and then there was the hiss of the pop escaping the can and soaking into our carpeting.
I was not pleased.
We'd gone through the house with a trash bag after the party collecting empty cans of pop, full cans of pop, half full cups of punch and numerous plates from full to empty. I thought we'd collected it all...but apparently we missed this one can.
It's suicide leap wasn't without help of course. The cats helped it along and then dropped to the floor to see what it tasted like.
Dang cats.
My son's hair is very long. We've been discussing the merits of being able to
see
, vs not being able to see when you're...oh, say, riding your dirtbike around hills and trees. Dirtbiking is his new passion, as you can see below. He's the one on the left. The one with too much hair in his eyes.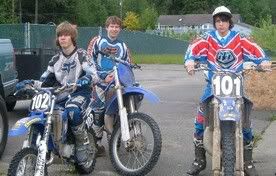 So he comes to us at ten the other night declaring that he wanted a haircut. Now. Right this very minute. He was ready. Let's go. C'mon.
As his parental units, we both looked at the clock, looked at each other, looked back at the clock and then stood there dumbfounded. We informed him that it was indeed a good and wise decision, however since we weren't living in Las Vegas where you can get anything you want
anytime
you want, his sudden urge to cut his hair would have to wait until tomorrow.
Of course when tomorrow came, the urge had passed.