...is a little stretch of sand, where an old beach cabin sits. The beach cabin is my happy place, where I'd willingly toss aside everything and spend the rest of my days.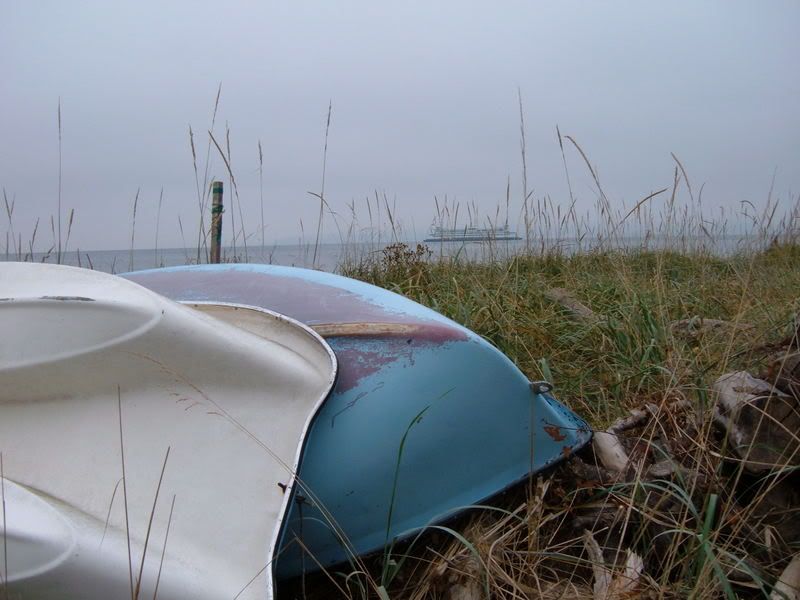 We spent this past weekend there, hoping to scrape one more sandy, sunny time from the dregs of summer before we officially call it quits and haul out our winter clothing. It was a good thing we
brought
some of those winter garments with us, as the nights were quite chilly and the last day was downright frigid and rainy.
The first night I took Ally and Ash, and our doggie Cassie. This was Cassie's first real beach trip with us, and she did wonderfully. You see, Cassie doesn't travel well. She usually tosses her cookies at some point in the journey, making an unpleasant time for all. This time she had her own space in the back of the suburban and all was right with the world. As you can see here, she loved the beach.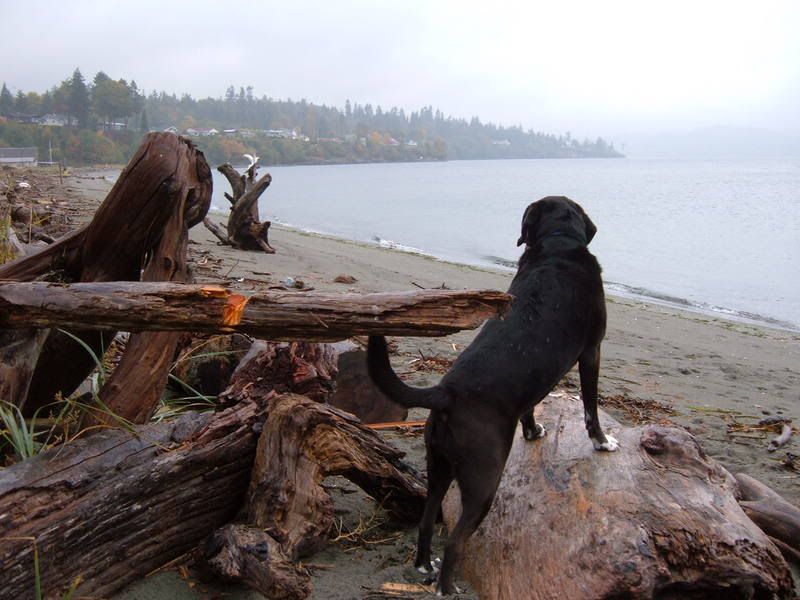 I'd also invited Jen and
my
her boys, Dillon and Daniel and their doggie Dora to join us. (Her hubby Dan continues to be whole and healthy in Iraq). Here is Jen and Dillon roasting a hotdog over our campfire that first night.
The next day my hubby Lance drove up with the Reluctant Teenagers. Neither wished to be there, but after some time breathing the salt air and jogging on the beach, they resigned themselves to the Family Bonding Time.
We were treated to guitar playing around the campfire by The Daddy.
And the son saying "No, that's not how that goes!" Wherein the guitar was removed from The Daddy's hands and The Teenage Son proceeded to show us all just how it was done. I could not tell the difference.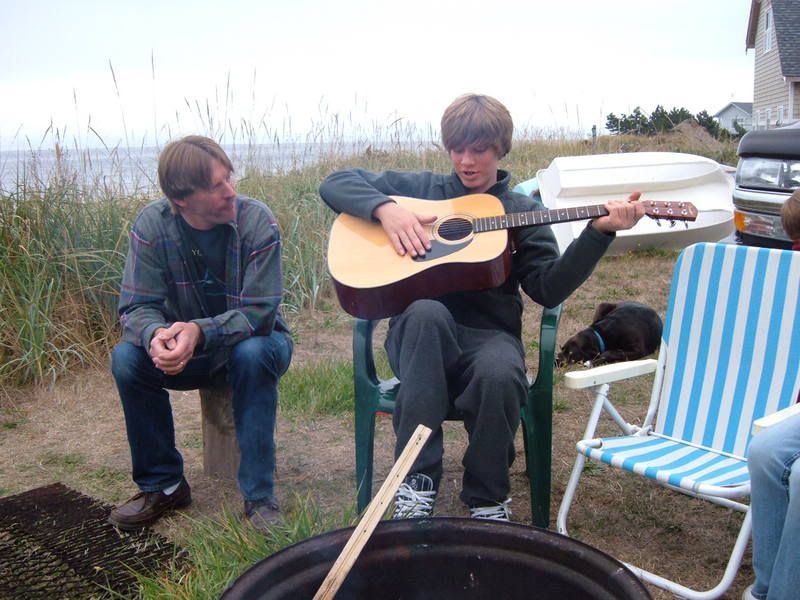 Ashley enjoyed playing in the sand, but not for too long as it was awfully chilly there.
Daniel toasted his marshmallow a bit beyond 'toasted' and went right for 'blackened cajun' style. Still, he did eat it!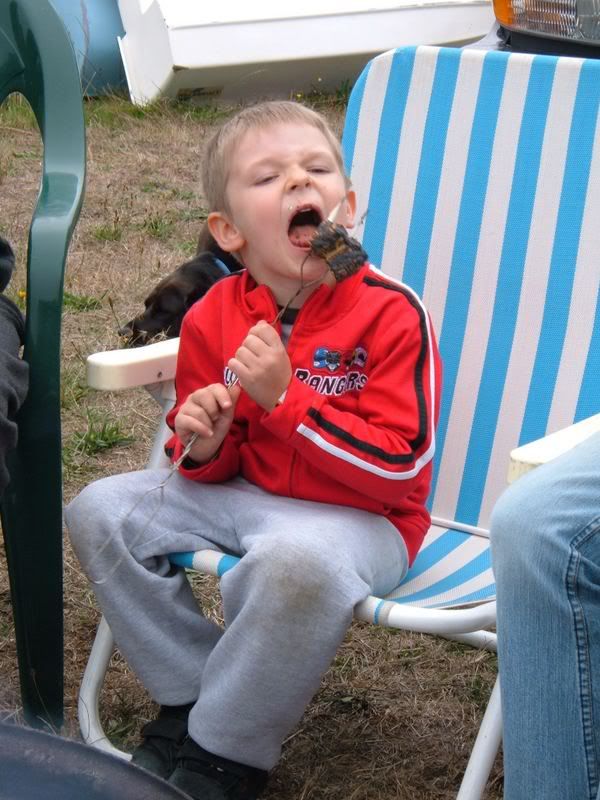 We had to take time out for Ally's breathing treatments while we were there, and she was a real trooper about it all.
Dillon was fascinated by the fire.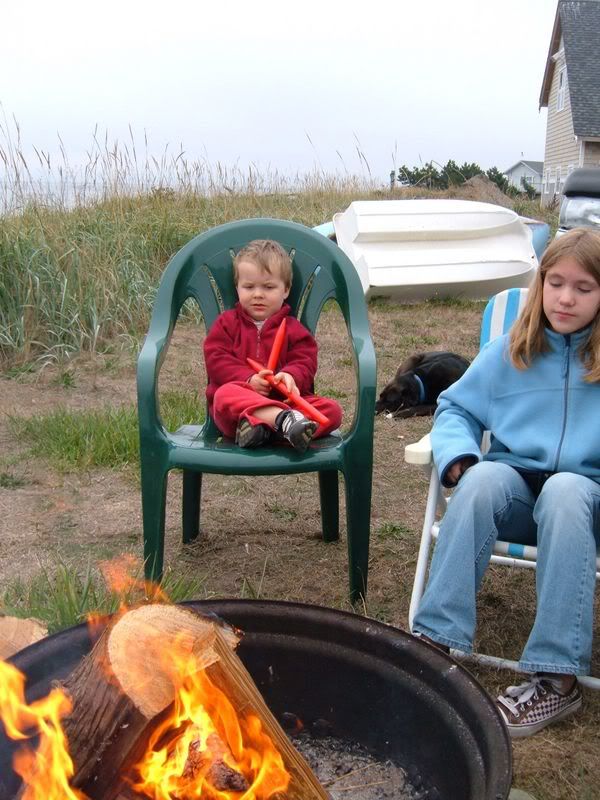 Ally and Ashley were a wee bit chilly.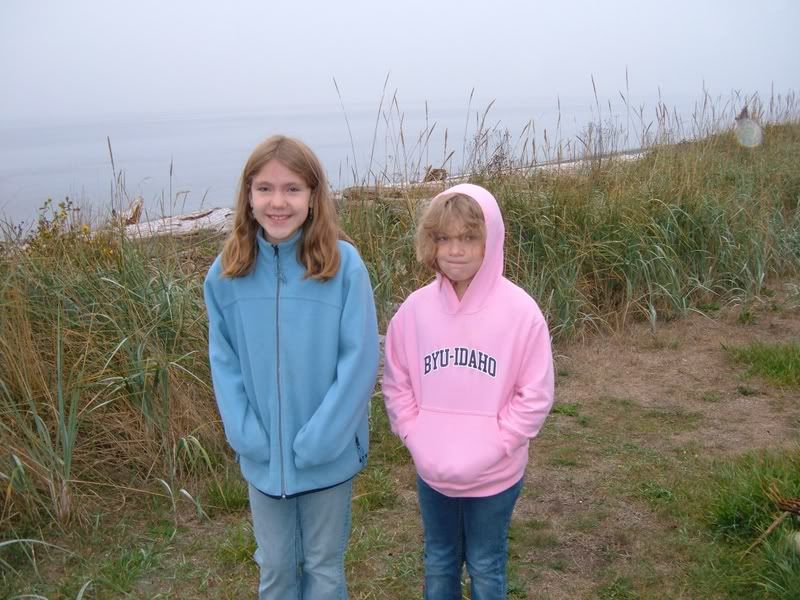 Stephanie, as always, looking gorgeous, even at the beach.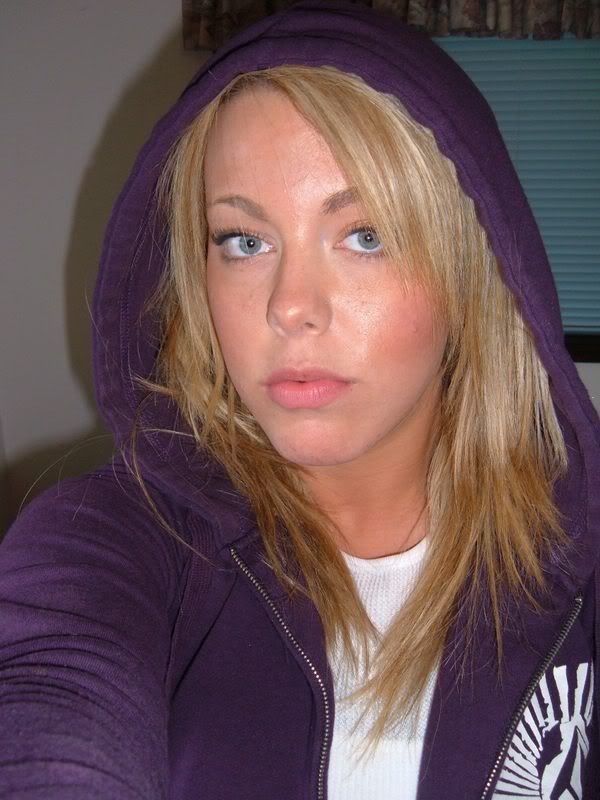 We had the wood stove going in the cabin and the campfire going outside. It rained buckets out last night and so we had to clean up, pack up and leave in the pouring rain.
I do think we consumed significant amounts of S'mores in those three days. Enough, perhaps, to hold us over until next summer.