Tonight we saw our son off on his
maiden voyage
first date. Personally, I don't believe he should be dating until he's twenty, but that's just me. Tonight was the homecoming dance at his high school.
I was informed that he needed a tux on Wednesday. Dance on Saturday. Riiight. That was happening. We met in the middle by buying him his first suit. (Alms for the poor.....alms for the poor)
So Thursday evening he and I set out in search of a suit. Today, the very day of the dance, we asked him if he'd thought about a corsage. Of course not! He's only human, why were we putting so much pressure on him? He didn't even want to go! He could have mentioned that
before
the big bucks were shelled out for the suit, shirt, tie, socks, belt and shoes, but nooooooooo.
Hubby and I drove him over to the girl's house. Actually
he
drove
us
, so as to, you know, look cooler.
Here they are. The
clueless couple
happy couple.
"Hey, what are these things?"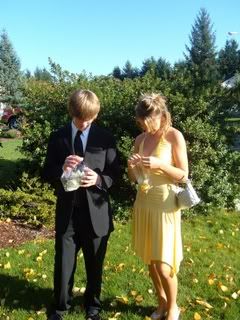 Corsages? Oh look! They come out of the little boxes!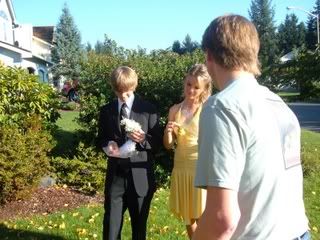 "I can do this! Of course I can!"
"Hey! Don't poke me with that pin!"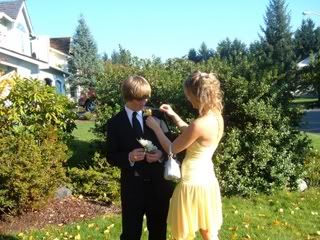 "Mommy! Help!"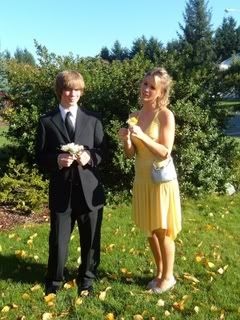 Mommy to the rescue!
The happy couple.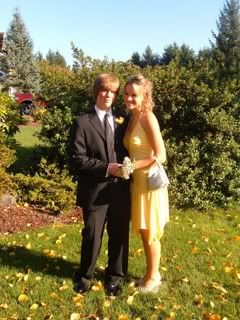 And now we wait for him to come home.