He lives! The angiogram went well for my father today. It took me two hours to get to his house this morning because rush hour traffic was so bad. I'm very grateful that I don't have to drive in that on a daily basis. Here he is in all his hospital gown glory. That's my sister sitting down.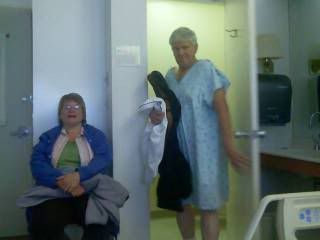 Dad was nervous, but he settled right down after they gave him a sedative. Julie and I went and had a salad at the hospital cafeteria and talked about a lot of things. When the nurse came to get us, she was smiling and I immediately felt good about everything.
The bottom line is that there isn't anything they can do surgically for the vessels that go to the lower part of his heart because they are too small for a stent. They said that the doctor will be giving him some different medications to help with symptoms. Sooooooooo.... he had to stay flat on his back for the following six hours. He wasn't too happy about that, but he did it.
Julie did some cleaning up at his house and I went to the store to pick up some groceries for him so he won't have to go out for a while. We also each took a dog home so he won't have to be walking them both morning and night. I took the beagle and she took the rhodesian ridgeback.
All in all, not a bad day.
...big sigh of relief...
Huge thanks to everyone for emails, phone calls and prayers.