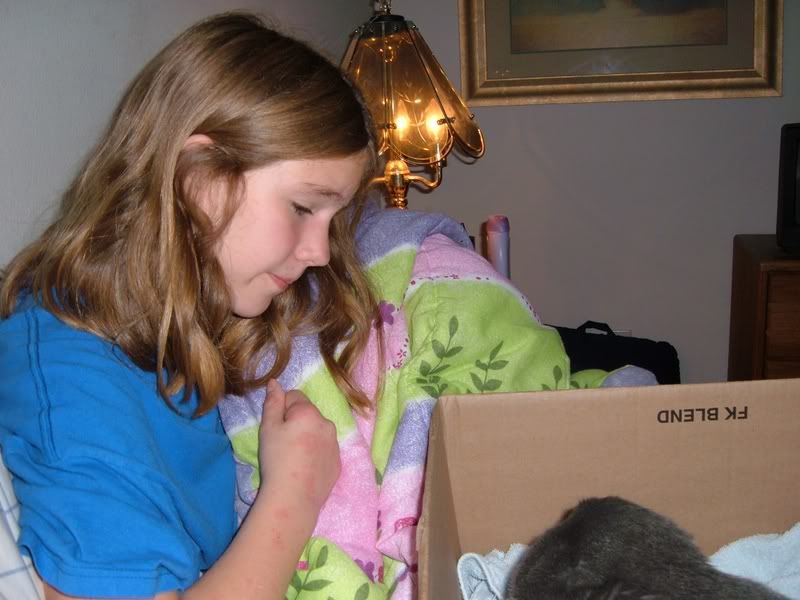 Ally awoke early yesterday morning to witness the messy, queasy, bloody miracle of birth. Momma kitty had her babies, beginning around five a.m. I put her in a box with towels in it for the first birth. On my bed. (The cat, not my daughter) This is where Allison viewed the first messy miracle. She (Allison) did turn a bit green as she realzed the mommy was actually
chewing
off the umbilical herself and then my poor girl nearly keeled over as she saw the afterbirth being consumed.
She asked me why the cat was doing that and I said that's what mommies do. Her eyes got huge and she said, "You didn't have to do that, did you??"
Now some have opined that I should have said yes, as that answer would have been useful as a new form of birth control for my daughters. Had my eldest been there, I might have said yes, but seeing as it was my sweet and innocent Ally, I told her the truth.
Here is the first kitten. It appears to be all white.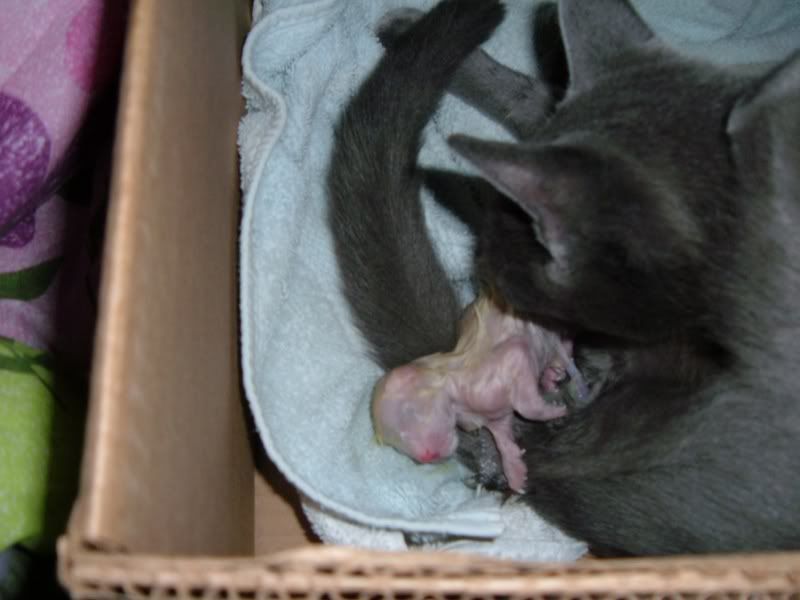 I do not have a picture of the second kitten's birth (isn't it always that way with the second child? Oh suuuure, you have millions of pictures of the first baby, but hardly anything of the second offspring, which causes the second child to ...erm.. but I digress) because the mother snatched the first kitten by the neck and went to hide
under my bed!
I was not pleased. I left the room to do something, and when I returned there was a bloody mess (and I do mean that literally) on the carpet inside my door. I think she had her second kitten right there and then she'd tried to leave my room, bled all over the place and then retreated with her second kitten to the darkness under my bed.
So I took the box with the towels and put it into my bathroom, yanked the bed out from the wall, grabbed the two kittens from the mum and put them into the box. Mom followed of course, not at all pleased about the sudden moving of her babies.
Too bad. I didn't want to have to clean up any more bloody messes on the carpeting. I kept thinking that if the CSI guys with ther luminol sprays and black lights were ever to stop by my house, they'd think I'd killed someone. Yes, I watch entirely too much tv.
At any rate, we now have four kittens, one white three black.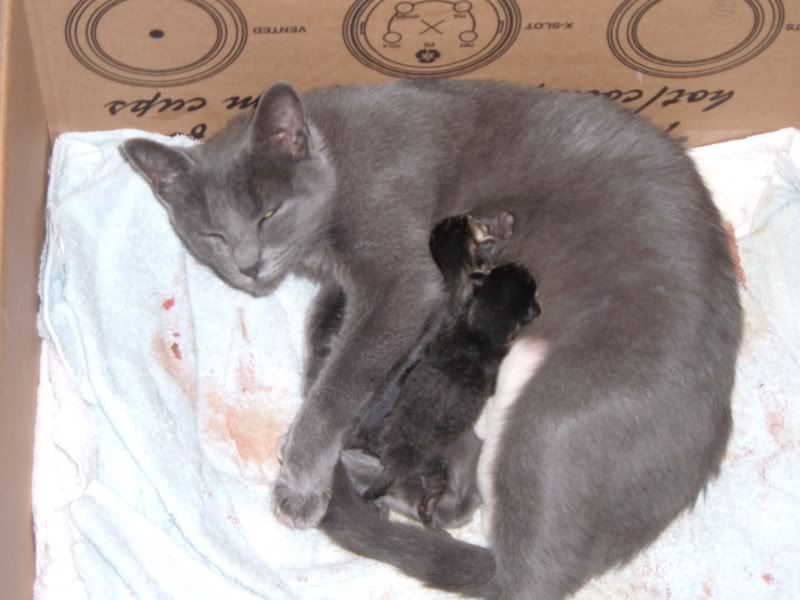 They'd make
really
nice Christmas presents! So call now, operators are
wishing they were asleep
standing by to take your orders. Only four adorbale kittens left! Call now!