While driving here (Orem) from Las Vegas yesterday, we made a little side trip into part of Zion's National Park. We took the scenic drive into Kolob.
It was breathtaking...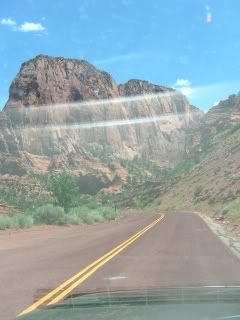 As I slowly drove the red road, I talked to the children about the beauty and majesty of nature.
"Isn't nature incredible?
"Mom, nature could do better"
This from Allison, in all her ten year old wisdom. Her comment made me laugh. I suppose you would have had to have been there.
Here's Ally.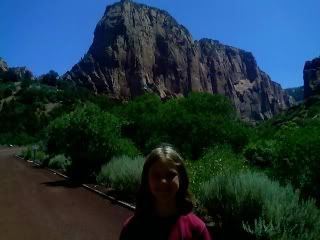 I stopped at a couple of view spots along the drive.
The kids found a big rock they wanted to climb. Allison helped Ashley.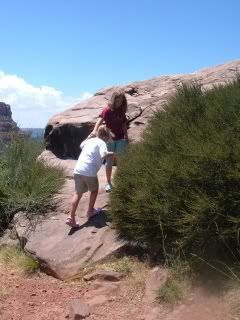 Chris peeking from the top.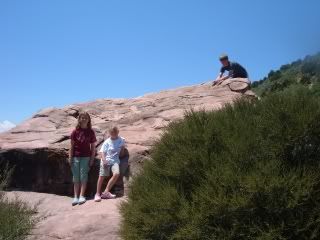 Here are all three. I love this picture of them.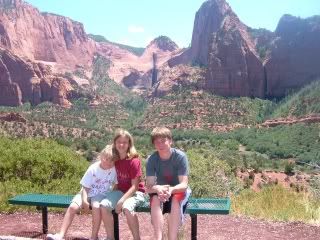 Of course Chris, being male, had to climb up things. He also wanted to drop rocks down and did so until I stopped him. I didn't want our names in the paper for having caused a major rock slide.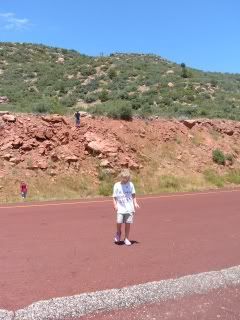 And here is Ashley sleeping on the remaining drive to Orem.
Last night we had pizza for dinner and then drove up to Salt Lake to see the new movie in the Joseph Smith building. As we were coming into town there was a double rainbow over the city. So beautiful.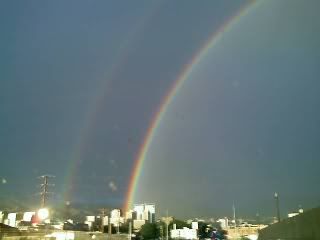 The movie touched me deeply and I wasn't alone in shedding tears during the film.
Then we stepped outside on Temple Square and sat by the reflecting pools to look at the temple. So beautiful.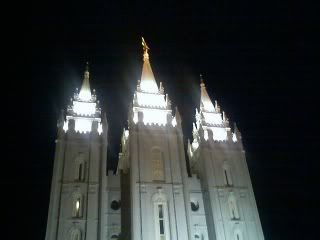 Here are Ashley and Allison in front of the temple. They had fun splashing their hands in the reflecting pools and enjoying the warm night air.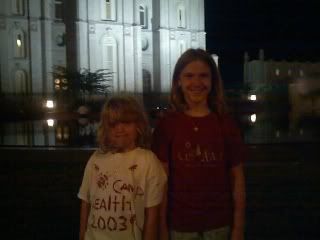 I love this place and the peaceful feeling it brings me. I could have stayed there all night, just looking up. My mom loved this place and this temple. I wiped the tears from my face and tried to wipe the pain from my heart at having her gone four years now. I miss her.