We spent hours at a Brazilian steakhouse, crowded with Brazilians, watching the match between Brazil and France.
France won. The people in the steakhouse were in tears, with Brazilian flags wrapped around their shoulders. It was all very emotional and sad. (Tom, please tell me again why the cute team lost?) While we were there, we were treated to some amazing food.
Here is Stephanie and Paco.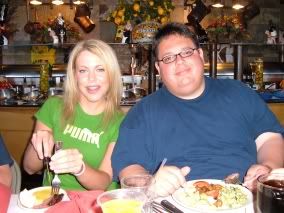 Stephanie was treated to amazing barbecued meat by various servers. This was Andres. I think he liked her.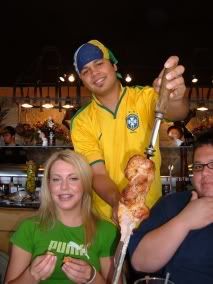 Another server. For those of you who have never eaten in a place like this, they bring different meats around, slicing off pieces and you take them with tongs they provide. The chicken was the most tender thing ever and the steak was amazing.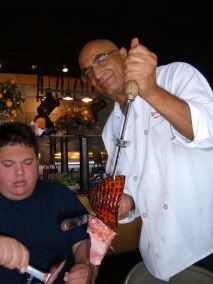 And yet another one.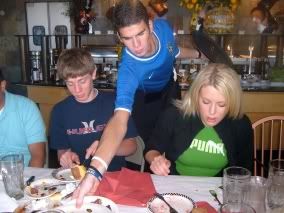 After we left there, the kids and I went over to the store to get some things we needed and returned to pick up Paco and Annabella. Then we drove up to Temple Square, parked in the mall across the street and walked through the Joseph Smith building to see if we could see the movie playing there.
Nope. All full up. We may try again on Monday.
We walked across the street to the front of the Temple, where I snapped this picture of the gang.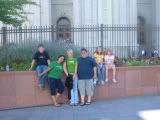 It was over 95 degrees and to say the least we were a wee bit hot and decided to head back to Orem. Tonight there is a Stadium of Fire thing going on, where they do massive fireworks. I'm still not clear on why they do these today instead of on the fourth.