Today we had the best time. Nothing was planned, it just happened. A friend from Shoreline spent two nights here (a friend of the children) and needed a ride to Bonney Lake, so hubby and the two younger girls went with us to drop him off. Drop him off we did, then we took a little drive.
What? You took a drive after spending untold hours in the vehicle driving all over the west?
Yes, yes I did. And loved it. We were heading towards Chinnook Pass, where all those snowy pictures were taken a few days ago, but veered off on roads less traveled and found the most delightful little park at a place called Mud Mountain Recreational Area. The girls loved the place and so did we. There was this amazingly steep trail down to who knows where (we were not equiped with the right shoes to do some hiking) and I snapped this picture of Lance waaaaaay down at the end of a switch back. You might just be able to make him out down there.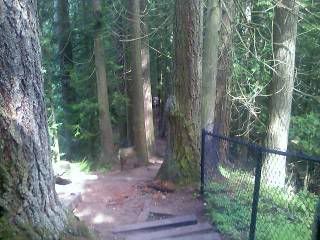 Then we went back up to the park proper where the girls waded around in the pool for a bit. They wanted to go in all the way, but again we'd left home unprepared for such activities so all they were allowed to do was wade and get their shorts wet a bit.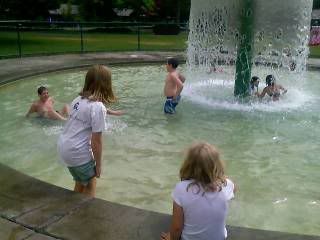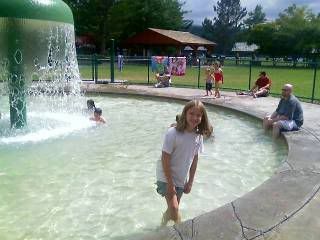 Here's a picture of hubby and the girls.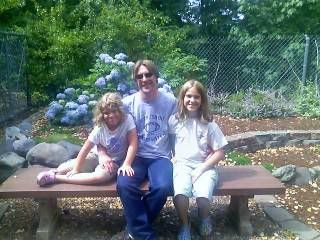 And since you complain that you never ever see
me
in a photo, here's one with me and Ashley that Allison took with my cell phone camera. In fact all these were taken with my cell phone camera as again, we were unprepared. Also, Ashley looks agitated because she was upset that we refused to purchase her a can of soda from the machines there at the park. She got over it when we bought milkshakes on the way home.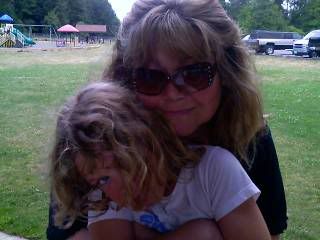 And our last picture of the day, Allison with her head out the window enjoying the wind in her hair.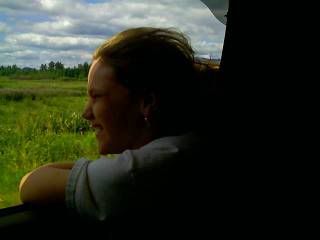 And now we're off to get the house clean in preparation for a family birthday party tomorrow for Allison. Wheeeeeeee!