Today is Saturday. I'm sitting out in the driveway of my in-laws house on my laptop. It's the only place I can piggy back on someone elses wifi signal. Bad, bad me.
Yesterday we played in the pool most of the day, with breaks for lunch and dinner. We also went to see Pirates of the Carribbean. The new one. Loved seeing Johnny Depp sashay around again. I enjoyed the movie and especially the movie theater seats as they were very tall and you could push the cup holder/arm rest up and snuggle closer to the person you wished to snuggle with. Hubby and I snuggled. I missed that man so much.
Here's Ashley leaping off the diving board into the pool. She's invincible in her life jacket and LOVES the pool. As I type this, she's there right now with her daddy and Allison. She woke us all up, saying we needed to get into the pool. '
Here's Chris in the shallow end. We played water volleyball last night and it was so much fun!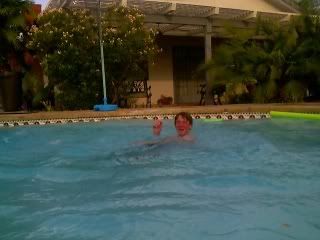 We had a wonderful dinner of shrimp and spinache bowtie pasta with tons of fresh fruit and breadsticks. It was wonderful as always.
Today we're going to celebrate Allison's birthday by having a party and cake and salmon. I'd better get back in the house, change into my swimming suit and jump in the pool with the kids. More later if I get a connection.