Yesterday (Wednesday), I took the kids up to Squaw Peak in Provo Canyon. The view from the top is something amazing. Unfortunately my camera wasn't working so I had to take pictures with my cell phone.
Here is Ashley and Allison looking over Happy Valley. That's Utah lake in the distance. We met a family up there that live the next town over from us in Washinton. Small world, eh?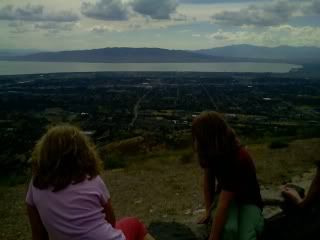 Then we drove up to the Deer Creek Resevoir. The roads have changed so much since I was there last. We skipped Sundance and then went back down the canyon to stop by Bridal Veil Falls.
Here's Steph and the girls dipping their toes in the freezing water.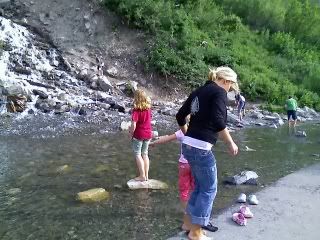 I went in as well. The inital cold shock wears off and then you're pretty much numb from there on out. Here is Chris, Ashley and Allison on top of one of the rocks in the waterfall. Ashley was a little frightened.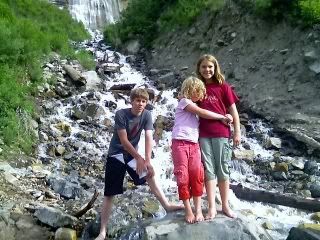 Here's Ashley a bit calmer and mugging like a mermaid.
Chris kept moving large boulders around in the stream. So odd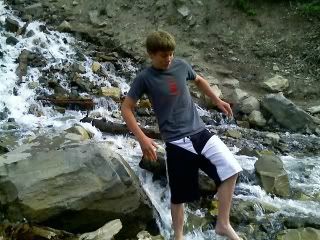 Then he hung out on a little rock.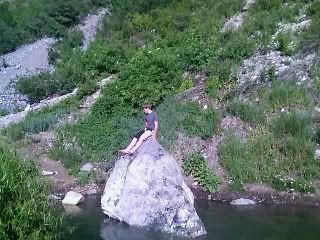 Afterwards we took Annabella and Paco to California Pizza Kitchen at the University Mall. I took this picture of Annabella to tease Lance because we love their pizza.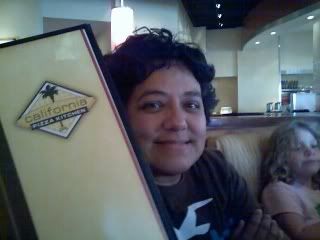 Then we all went to visit an old friend of mine, Rachel. She was one of my missionary companions. Her son just graduated from highschool and was apparently smitten by Stephanie.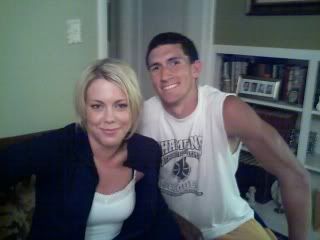 His name is Bryan and he began texting her as soon as we got home. He then came and picked her up and they went out for a slushie or something at Sonic.
Back at Annabella's we watched The Village (I'd not seen it before) then I tried to stay awake to watch The Phantom of the Opera but I think I passed out around two a.m.
Now nobody is awake and we need to pack our stuff and head out to Vegas. Today will be a road trip. See you on the other side.