Somehow I got my days mixed up (being gone for nearly three weeks will do that to you) and I missed an appointment at CTU (no, not the terrorism unit) for Ashley. This is the Children's Therapy Unit and she was to meet her new physical therapist Erika. The appointment was yesterday, so she called last night and asked if we could come today. We could and we did.
Here is Erika evaluating my baby girl.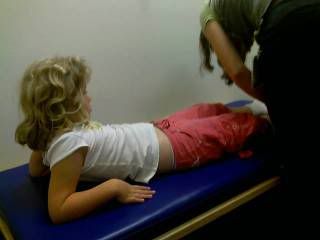 More of the same.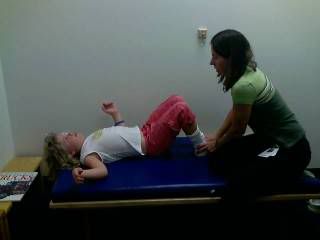 We sat and talked about what my concerns are for Ashley. I'm concerend about her gait, her posturing, her right thumb being more in the hand than out, and the disparity between her limb lengths.
Erika discovered that Ashley's left hip is about two inches higher than her left. Her left leg is an inch and a half longer than her right, this is causing the hip issues. We need to fix this as quickly as we can and so once a week we'll be in physical therapy with Erika. There will be a lift placed in Ashley's shoe to make up the difference in limb length. Because of her cerebral palsy, her foot is ...well....
Ok, I'm tired of talking about this stuff for now. Suffice it to say that I'm pleased with the therapist and the plan we have for Ashley right now. We're on the waiting list for an Occupational Therapist to deal with Ashley's arm and hand.
And here to end on a happy note, is a picture of the boy I watch (Daniel) with his newly bandaged pinkies after the nail was sewn back on. ((shudder)). He's doing well. I am too, since so far today I've not had to see that little dog.