Saturday we spent celebrating Allison's tenth birthday by having a party with a Hawaiaan Lua theme. MIL made salmon on the barbecue and macademia nut encrusted halibut with various salads and I made some stuffed mushrooms for appetizers. MIL made some delicious mushrooms with a coating. I know they weren't shitake...were they chantrelle? I'll have to ask as they were amazing.
Here's part of the feast.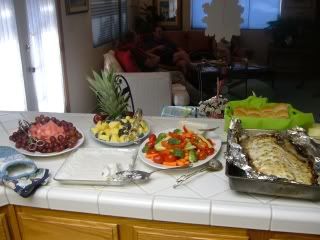 Here are some of the guests. That's (L to R) MIL Bonnie and FIL Roger, Roger's cousin Gary and his wife Edie (Not sure I spelled that right)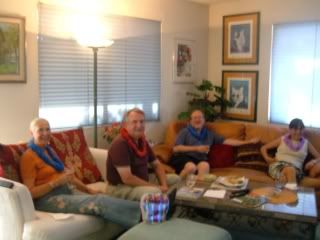 Here's the birthday girl with her plate.
She wanted an ice cream cake and that's what she got.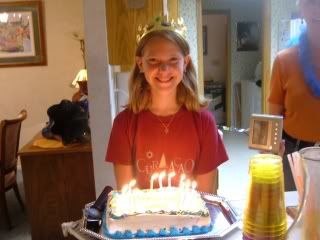 Her grandparents gave her a stuffed doggie (she loves stuffed animals) and a
Tamagotchi
. If you've never seen one of these, I'd have to say you're lucky. She now has three of them and Ashley has two. They are virtual pets. They beep. They make noises when they are 'born', when they 'poop' and when you need to 'feed' them. There are other things they do, but I'm not going to list them.
Suffice it to say they are annoying to parents. Or perhaps it's just this parent. One of them woke me up in the middle of the night. I'd kill it but I'm not sure how.
I think I will make a rule that the tamagotchis are only to be kept in their bedroom.