We decided to stay another day in Utah and then head for Las Vegas in the morning. Should be
hot
fun.
We're taking Steph down to the BYU campus to show her around and then I think a drive up to Deer Creek Resevoir and Bridal Veil Falls. I have some fond memories of Bridal Veil Falls from college.
I spent the day yesterday with China (Chee-na) I lived with her when I lived in Valencia, Venezuela. We've kept in touch all these years and I adore her. She doesn't look like she's aged a bit.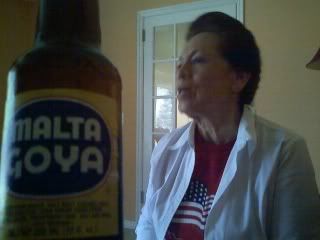 I took that with my camera phone in Annabella's living room. She'd given China and I some Malta. For those of you gringos that have been to Venezuela, you will vividly recall this drink. I'm not sure where she managed to get some up here. She was so excited to give it to us and ..... we managed to drink it.
Ok, and here's my little venting of the day. I cleaned out the suburban with the kids (Ash and Ally) and we vacuumed it. By the time we were done I was HOT. So I bathed Ashley and then showered myself. The whole time I'm in there washing my hair this is going on.
Knock knock. "MOOOOOM! Can I use the bathroom?"
"NO, because I'm in here!"
Next child knocking. "Mom???" Then a bunch of muffled yelling.
"Whatever it is you want can wait till I'm out of the shower!"
More knocking and muffed yelling that sounds like they are in peril of losing a limb if I do not walk naked from the shower and immediately throw open the bathroom door to render them aid.
That's not happening.
"GO AWAY!"
More knocking and I heard Ashley yell something about needing her clothes that are on the floor in the bathroom. The very ones I peeled off of her so I coud give her a shower. She wants to put
dirty
clothes back on her clean body.
FILTHY
clothing.
"Go away and leave me alone, just once I'd like to be in the bathroom and not have the entire universe NEED me to come out and do something for them!!"
Then there was silence except for the water cascading down over my head. Cold water.