Our morning went from swim lessons for Ash at Children's Hospital...
Then to the hospital cafeteria for nourishment in the form of a cheeseburger and fries. Here she is in the throes of opening a packet of mustard.
I'm not sure it was a fun experience for her, but the rest of the meal was consumed with a dearth of facial contortions. Well, almost.
Then I took her back to school and went on with my busy day..until we ended up back in Children's Hospital and not in the good fun part of the place. The ER.
She became very dizzy, a sharp pain in her head and another one in her chest making it difficult for her to breathe. Her Daddy showed up after work to wait with me and help me with her. I was grateful that he came.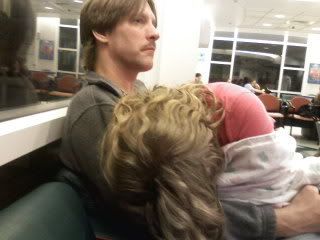 It was a very long wait. VERY. LONG. Did I mention the length of the wait? Yes, verily it was lengthy. Too long. We finally made it into an exam room and I was so tired that I nearly had a fit of the giggles because our ER doc looked like Sheldon from The Big Bang Theory. You know, this guy?
Yeah, him. Seriously. By the time we left there we'd been up nearly 24 hours. Giggling was the least of my worries. This was my main worry...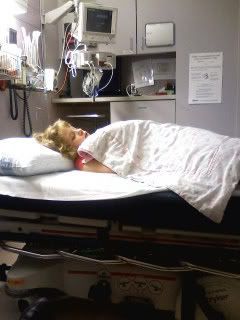 It's amazing how much fear and worry can fill you when you think there is something horrible about to happen to your littlest angel, who has already had something awful happen to her in the first place. After so many hours, the dizzy resolved itself, and the pain in her chest went away and the only thing left was a dull ache in her head where the sharp pain that had made her cry had been. The pain was in the same spot as her stroke, which was further cause for concern. Blood clots? We don't know. We may never know. They suggested another MRI to make sure that nothing else had happened.
At any rate, we went home and tried to sleep for an hour or so. I had to teach this morning....that was interesting. I love the wee ones in my class and they buoyed me up and I managed to get through the Spanish class with my eyes open. Then I took Lance to the Pain Clinic for an injection in his spine.
Then I came home and fell over for a few hours before picking up Ally, grocery shopping and then creating these for tomorrow:
I'm putting on the big feast here tomorrow. It will be the first time Thanksgiving has been held in this house since my Mom passed away six years ago. I'll be using her formal dinnerware and glasses. I hope I do you proud Mom.
And now...I'm going to go fall over for a few hours. G'nite!