As I sit here writing I am listening to the giggles of my girls and their friend Kylee. She's spending the night because her mom was called out tonight (she's a flight attendant).
The giggles and the laughs and the happy sound makes my heart happy. I should be telling them to go to sleep because it's late---and I do, albeit a bit half heartedly. I'm loving the sound coming from their room. Being happy is a gift--one I've had trouble hanging on to in the last few weeks.
But things have changed and improved. I made the decision to
be
happy despite things and then the situation that was causing me such pain improved.
Being happy is a good thing.
On Monday I took the girls and their cousin to Greenlake. I'd like to say it was a peaceful time but we were accosted by some insane man who began yelling at us, kept yelling and being rude. It frightened my girls and made Ashley cry. So I did what every grown married woman does in that situation. I called my 76 year old father. He came down to the lake with his dog Amy and took care of the situation so we could go for a little walk without fear that this mean person was going to vandalize our vehicle.
Oh, the lake was beautiful, see? I think the UW rowing (sculling?) team was on the lake practicing.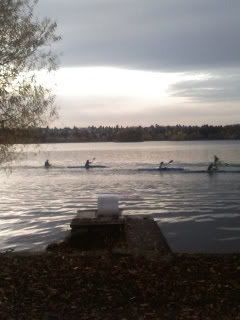 The silly girls were determined to wear shorts because they were going to be walking the lake...which of course we didn't. Ash couldn't walk that far and our little episode with the crazy man took away some of our time. The light was fading so we didn't go far. But....the girls in the shorts had a good time.
Since I began writing this the giggling has ceased. It seems the angels have gone to sleep for the night.
Sweet dreams angels.