This morning, after teaching, my husband and I executed our patriotic duty by marking little circles on some paper and stuffing said paper into a ballot box. For our service we were rewarded with little stickers to put on our shirts.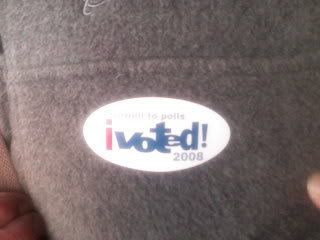 Presumably we can redeem these stickers for a free beverage at our local Starbucks. Since I don't do that coffee thing, think they'd substitute a hot caramel apple drink? Yeah, me neither.
Then we took Ashley to her swim lesson at Seattle Children's Hospital. This was Lance's first time watching Ash spalsh about. But first she had some trouble getting her swim cap on so Daddy helped.
I wish you could see her and the progress she's made! I was having a little trouble seeing her as my eyes kept welling up. She's doing so much better after just a few lessons. Trina, her instructor, has a little floaty thing that attaaches to her affected side around the ankle to help her keep it afloat. It works wonders and I am going to try and locate one for her to use outside of the lessons.
The lessons, by the way, worth
every
penny!
Here she is making it across the pool!