Hubby and I went down the Union Hall this morning. Before you could get your
deliciously extravagant
strike check, you first had to fill this out: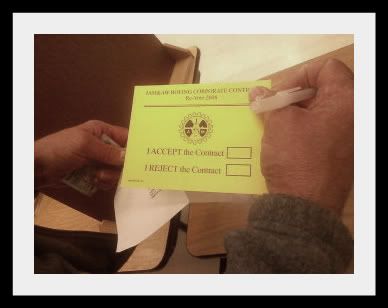 We voted, we picked up the check and we left.
This 'we' is of course the wedded-we. The two-shall-become-one we after matrimony we.
One more thing which made me laugh, though it might irritate some who read here. There were a number of union people meandering around wearing Obama t-shirts. One man called out to another "hey, where's your Obama shirt?"
Hubby muttered under his breath "I wiped my nose with it"
Now, before you begin sending me hate mail over dissing The Chosen One, I don't prefer him over McCain. I don't prefer McCain over Obama. I'm not enthralled with either one of them. I have issues with both of their policies and stances. Obama's mantra of
change change change change change change change change change change change change change change
is annoying. I worry his socialist tendencies will do more to harm our economy than to revive it. McCain's similiarity to Bush is disquieting to me, though I do admit I like Sarah Palin if only for her affinity for a good quip.
I know, I know. We're voting on Tuesday. I'm still working on it.