We brought our kitty Bobo with us when we moved to my father's house. He's a very loving feline and back when we lived in Puyallup he'd give all of us what
we called Head Butts. He'd knock heads with us, in an affectionate way.
Since we've moved he only gives head butts to Lance. I feel cheated somehow. Oh, he still walks all over me at night, comes to me for loves but not one single head butt. He reserves them all for the alpha male of the family.
Also, the word Bobo means stupid in Spanish....not that I'm uh...you know. Not that I'm saying he's stupid or anything. No, I'd never do that. Here he is laying on Lance this morning.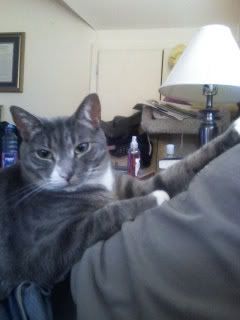 This morning my sister sent me a picture with her cell phone of something her kids had written on their dry erase board. It made me smile.