I taught my new class of K through 4th graders this morning. Sweet group. Rushed to get Ally from school to get her to the doc because she's been having horrible ear pain. Rushed so quickly that when I reached for my purse to pay the doc, I realized I'd left my purse back in my classroom.
Ugh. Had to have hubby, wonderfully patient and kind hubby, retrieve it for me. Then we met up after I dropped Ally back at school. Oh wait, the doc appt. This was....disturbing.
After much cleaning, then application of an analgesic in her ear and a warm water washing, tons of
ick
came sliding out. Then there was more digging in her ear and the "Oh my" exclamation from the pediatrician. Seems there is something
in
her ear that she can't get to and remove. She's given us ear drops, antibiotics and (dang I'm tired) something else I can't remember. We go back in a week. If it hasn't come out of it's own accord...we may be looking at surgery.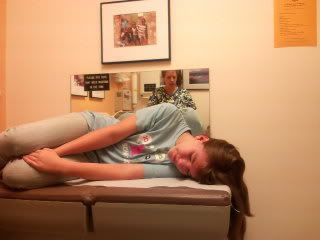 Anyways....hubby and I ran some errands together, then he dashed off to work and I went to check on my invalid sister before picking the girls up from school and The Boy from a park.
The day just get's longer from there, but suffice it to say that it involved more driving, three haircuts and two teary phone calls with my best friend from high school. It's now nearly ten and I've not been home very long. My little angel fell at church this evening and wiped out her bad hand in a few places as well as both her knees. It's hard for me to tell if she's broken one of her fingers because they are so misshapen to begin with. I recieved an email that a good friend from high school was killed in a head on crash and his funeral is Friday.
And...I'm tired. I'll go to the funeral on Friday and stand with my old friends as we remember the good times...so very long ago.
I apologize. I'll do my best to find something witty and engaging and funny for you all to read in the coming days. Today...I just can't manage it.