I took a long one today, in between working on some Spanish curriculum stuff and working in appointments for interpreting jobs that I got phone calls for....
I think I just needed to sleep today. It felt good. I've been running running running for so long now and I'm tired. Physically and to be certain, emotionally.
A lot of my students are signing up for a second round of Spanish classes with me and so I'm looking forward to creating that curriculum. They're a great group of kids and a bright spot in my mornings.
Last night Ally had a thing with the young women's group at church. She's been working on a project about how to make people feel better about themselves and her display there was beautiful. When we drove home later, she was chatting and chatting and chatting. She is an amazing young lady---at twelve she has a poise and a serenity that I love. She has always been a loving and caring and peaceful soul in our lives.
Ash has seen I've been sad lately--though we've done our best to shield them from problems, it's hard not to notice when mommy's eyes are red a lot. She solemnly handed me her precious Ducky last night. To make me feel better and to cheer me up. Now Ducky watches over me as I type this and comforts me.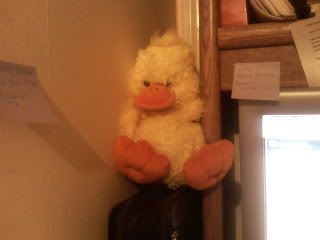 I love my girls so much.