My first car was a 1962 white Ford Thunderbird.
This is a car that I loved loved loved. White, with lots of chrome, black interior and a way cool 8 track tape player that was
removable!
. Oh yeah we were the cool kids on the block as I drove this baby to high school.
As we were driving up Aurora the other day I slammed on my brakes to make a quick turn because I'd seen
my car
.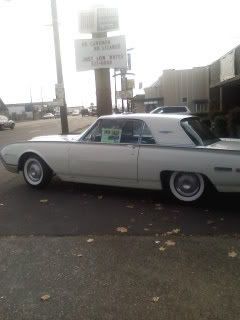 We stopped and checked it out. It could very well have been
my
car. It had the same cracked hole in the dashboard in front of the passenger seat where Kevin Nickel had slammed his fist while I was driving us all to see the Eagles in concert at the Kingdome.
It might not have been the same car though because it was a little
too
shiny. You see, one day my sister and I decided to do a good deed for my Dad and wash the car. It was awful dirty.
We used Comet. You know, Comet? The abrasive bathroom cleanser?
Yes, that one. We washed the car with it. We were so helpful! And yes, a little blond. The car was still white but it sure wasn't shiny any longer.
The car is for sale.... I'd like to buy it for my girls to drive. One thing is for sure, that car is a tank and a much better protection than any air bag in a car made of tinfoil today.
Ah yes...my car...