Hubby and I took the two girls shoe shopping today. Can you tell how much Ashley hated it?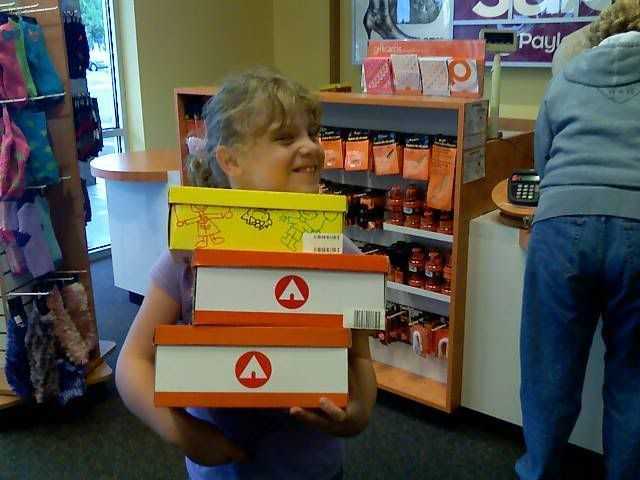 Then we went to Steilacoom to help Miss Jenny. Her sink was leaking and she needed a television stand put up on her wall. Lance fixed the sink and put up the stand. He's so handy, although we would both have enjoyed watching him more if only he'd had a tool belt. I think I should get him one. Miss Jenny is loaning Steph her car until we can get her truck fixed. She's so sweet.
She showed us some cards that her hubby has sent her from Iraq. They nearly made me cry. One showed a soldier on the front and said "I'm missing you" and on the inside it said "And they're missing me too" or something to that effect. Then he wrote the most amazingly sweet note to her.
I was able to talk to him online the other day. He's in Iraq, which as you know isn't a good place to be. It was so good to be able to talk to him. I miss him...we all do. Everytime I hold his little guy Dillon in my arms, I see Dan's face because he's a carbon copy of his daddy.
If you're a praying person, please keep Dan in your prayers. We all want him to come home safely. He lost a good friend there yesterday. He's taking it hard.