I got up this morning at 4:30 with a horrific pain in my right arm. Being the hypochondriac that I am, I imedately assumed I was in the throes of cardiac arrest.
Apparently I was wrong.
But since I was up, why not unload the dishwasher and do some laundry? Splendid idea. At 5:30 I got the two oldest kids up and running, then I left to pump gasoline into my gas-guzzler. That was fun. And painful. And expensive. But I digress.
Let's just say that from 8a.m till around noon I was squiring children from one end of the planet to the other. I did some grocery shopping and then picked some blackberries so I can make a pie for after dinner this evening. I realized I had no bowl in the Suburban, so I dumped some groceries from a plastic bag (yes, I got plastic not paper ~~gasp) and went to pick the blackberries.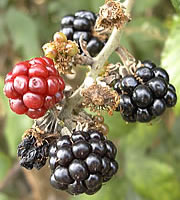 It was a nicely shaded place on the side of the road across from a lovely lagoon, woods all around. As I picked I kept hearing something rustling in the woods in front of me and up a slight hill. Rustle rustle. Picking and more rustling and then my little Daniel yelled out to me.
"Miss Pam! A deer! Look! Right there!"
And look I did. A beautiful doe was about three feet in front of me, enjoying all the berries she could reach. She was stunning. I'd pick and glance at her, she'd eat and look around at me. It was a lovely few mintues together, then she slowly ambled back into the bushes and disappeared from sight.
I kept picking and then I heard another sound. I'd had to sort of jump across a small creek to reach the berries and I was hearing splashing. At first I thought it was a frog, then realized that if it was a frog it had to be a rather large one. Since most of the little creek was hidden under brambles and ferns, I couldn't see what was making the noise but I could track it's movements by the sounds it was was making. It had to be quite large, because it was making a considerable noise as it passed me. I never did get to see what it was.
I finished up the picking and put the bag of blackberries on the passenger seat and took off. About forty minutes later I had a sudden thought. I sometimes have thoughts, yes. Don't be surprised. Or mean.
"Hmm....I sure hope that plastic bag isn't leaking all over my nice new cream colored leather seats"
I lifted the bag up a bit as I drove. Of course it was leaking.
I pulled over to the side of the road, yanked open the back of the beast and extracted some clorox wipes that I'd purchased this morning and ran around to the passenenger side of the beast to begin the scrubbing. I rubbed, I scrubbed, I cleaned.
"Lance is going to KILL ME. He's going to KILL ME"
"Miss Pam? What does it mean that Mr. Lance is going to kill you?" said an innocent little voice from the carseat.
Oh no. I forgot there were little ears listening to me. I told Daniel that I was just kidding, that Mr. Lance wasn't going to kill me, he was just going to be upset. No killing. None. Especially since I got all the purple off the leather seat.
"That was bad kidding, Miss Pam"
"Yes Daniel, it certainly was."