Last night my house guests said they wanted to stay home today, take it easy, sleep in and just spend the day together. I found out later that we don't agree on the term 'sleeping in'. To them it means getting up by seven. To us, it's more like nine or ten.
Allison was in her baking mode again and she made (from scratch) Masterpiece Muffins. They had cinnamon strudel on the tops and they were fantastic! So we had muffins and juice for breakfast while we talked about what we wanted to do. We decided on Snoqualmie Falls and then they would leave from there to head home. Stephie stayed home and Chris was out with some friends, so we only had Allison and Ashley with us.
Apparently about a gazillion other people made the Falls their destination. Check out the crowd on the observation deck overlooking the falls.
I've never seen so many people there in my life. Paco is so frightened of heights that he wouldn't climb onto the observation deck. I can't say as I blame him. Annabella got up there but wouldn't go near the edge.
After we looked at the view we took the girls to the souvenier shop so we could disappoint them by not buying them anything. Paco bought some post cards and then it was time to hug goodbye.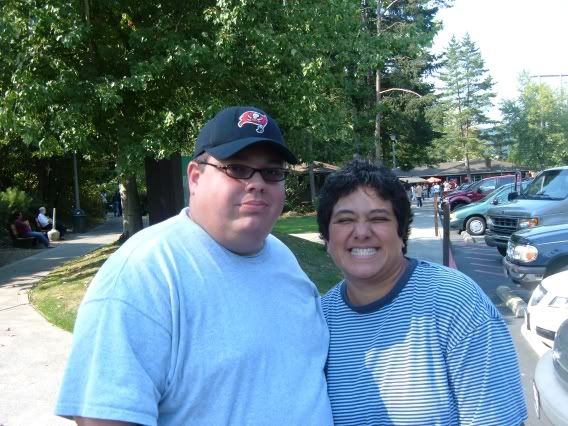 They are off to Utah and I miss them already. Thanks for coming Paco and Annabella!
Did I mention that Paco applied for some jobs while he was here? We're hoping they can move up here sometime.