I took the boys out blackberry picking again this morning, so of course I had to make another blackberry pie this afternoon. I made dinner, made the pie and then went upstairs and fell asleep. My back was giving me fits again and those pills they gave me simply make me pass out. I probably shouldn't have jumped across that creek again today. Silly, silly me.
Lance took this picture of the pie and sent it upstairs to my cell phone. He said it was the perfect pie.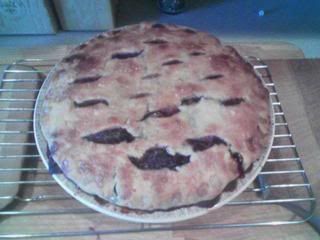 Not sure how perfect it was, but it warms my heart to make them happy. Tomorrow is fair day and we're taking the munchkins there in the afternoon.