Yes, my female cat is with child, er kittens, again. As she is nearly due to give birth, I thought I'd put out the word for anyone within my driving area who is in the market for an adorable little furball with sharp pointy teeth and razor sharp claws.
Her name is Smokey, or it was until she gave birth the first time. Now we call her momma kitty. Yes, we pride ourselves on originality here. And,Yes, I know. We should have gotten her fixed and we did
try hard to do so
, which ended up being a huge fiasco.
I blame my husband for the cat being pregnant. No, this is not a startling case of cross-species breeding that you'd find in the tabloids, this is a case of him setting the cat free in hopes it wouldn't come home again. I was on vacation at the time and had no knowledge this was happening, or I would have reminded him that while the male cats had been to the vet to have their bits and pieces whacked off, the female was still intact and therefore in danger of procreating once again.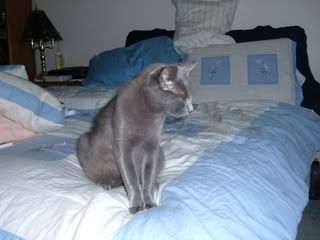 And here we are. According to my calculations, she's due to give birth any day now. She's a beautiful Russian Blue and since we don't know the father this time around, the kittens should be an interesting mix, arriving with an IQ higher than
inbred southern politicians
the previous kittens.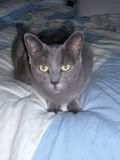 So, anyone? Anyone?