One of our kittens has been named Twitchy by our children. This is due to the fact that the poor thing tends to twitch in his sleep. He's also the sweetest, most cuddly kitten I've ever encountered. For the past three nights he's curled into the crook of my arm and slept with me all through the night like a newborn baby. It's so precious. (yeah, yeah, I know. Awwwwwww) Last night I had to get something going for the kids and so I took the kitten and placed him on Lance's chest. He stretched out and slept there for a while.
Naturally I had to get some pictures.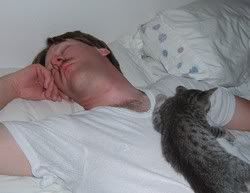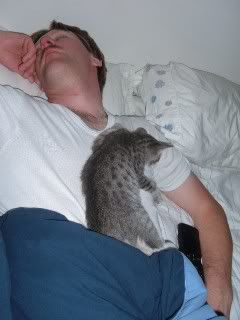 When I came back to bed I took the baby off his chest and it curled up with me till around four or so.
Sleeping with the kitten is just fine. Sleeping with my daycare children in the room is something else. Dillon and Daniel spent the night (as they will do the next two nights) while their mom and dad are in Las Vegas having some fun. Dillon, who is two, didn't want to sleep through the night. He alternately cried 'momma' and 'no' most of the night. Sleep was in short supply for us last night. Tonight I'll have Lance sleep in another room so he doesn't get woken up again. He has to work in the morning.