But then, this isn't news for those of you that know me.
My computer died on Thursday evening. Not sure why, but it simply didn't 'go' when the 'go' buttons were pushed. The children were unhappy, I was mildly miffed and hubby didn't know about it until late last night when he came home and plugged in the plugs that had come unplugged behind the computer and made it 'go' again. Isn't he amazing? Just one of the many reasons I keep him around.
So, with a computer-free day yesterday, you might wonder what interesting things I embarked upon. Did I spend the day out and about? No, I spent the morning in bed being quite dizzy for no apparent reason. It was disconcerting to lift my head from the pillow and watch the room go in circles. I'd have blamed it on being over medicated, but I'd taken no medications whatsoever, despite the back pain I was suffering.
Due to the impairment I was experiencing, I wisely decided not to drive to the gym. I'm sure my fellow drivers would thank me if they knew I'd
not wanted to dent my brand new vehicle
had their best interests at heart.
Later in the day I felt better, dizzy wise, so I went to the gym where I was the only person in the entire pool and swam laps and did my exercises. Luckily there were three lifeguards to keep an eye on me in case I went under.
When I got home from the gym I had to have my army neighbor guy carry my dog Cassie into our suburban so I could take her to the vet.
Cassie is an amazing pooch and we all love her to death. The
story
of how we aquired this sweet soul if often told to others by my husband and children. I still don't think I'm responsible.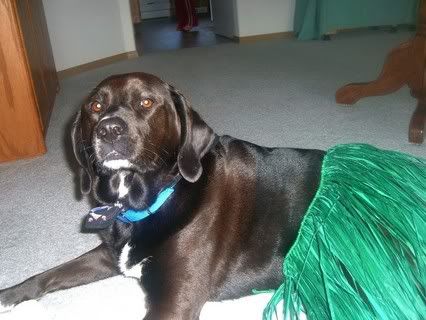 At any rate, on Sunday night she began vomiting. On Thursday she ruined our carpeting in several locations with diarrhea. By Friday afternoon she was in a bad way. When I got her to the doc, she was dehydrated and very ill. They said they had to keep her and run some tests. They put her on an IV and took blood to check her pancreas, kidney and liver functions.
Later in the evening I got a call from the vet. Cassies bloodwork came back ok, but they'd found an exotic bacteria in her stool. They'd put her on two different antibiotics and were waiting to see if she was still vomiting or having the runs.
As of this morning she seems to be doing a lot better and they said if it holds out then we can bring her home this afternoon. Then she can take her favorite place on the couch again.