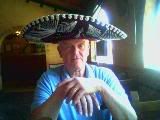 My sister and I took our father out to a Mexican place for his birthday lunch today. I generally speak to the waiters in Spanish, so while I was talking to them I mentioned that it was my father's birthday and would they do something special for him?
A bit later they snuck up behind him and placed this rather large sombrero on his head, put a fried ice cream in front of him and sang happy birthday to him. His face was so red. I wish the picture was larger so you could see his expression better. It was nice to spend some time with him. Even though it cost $97 to fill my gas tank to get there!
When I left I told them I'd see them at Christmas.