Ashley was bored. She was whining. She decided that being sent to her room for throwing a fit wasn't in her best interests. so she stopped. Then she decided that she could bake cupcakes.
But first she had to find the cupcake tin with her daddy.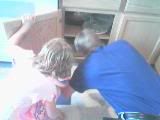 Then when they were in the oven baking, she insisted on sitting by the oven door on her step stool to watch over them.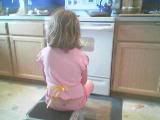 The cupcakes turned out quite well so she shared them with the neighbors. All on her own! What a sweetie she is. Now if we can just keep her from pitching fits we'll be just fine.