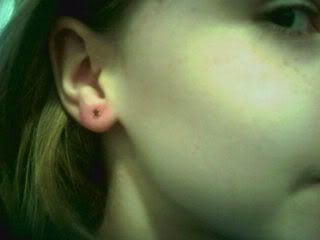 Ally has been begging for quite some time to get her ears pierced and today, for some reason or other
perhaps because the pills I've been taking for my back pain have ruined my better judgement
I consented. I ouched my way to the mall for the piercing. She did well, no crying, just a surprised "OH!" when it happened and that was it. When the lady saw my flash go off on my camera she turned around and berated me for taking a picture. Apparently there is a NO PICTURE law in effect there. This was news to me, as I never saw a sign. So I politely put my camera away and took out my cell phone. Oops! It snapped a picture without a flash! How did that happen? At least I wasn't using a 'camera'. Ha!
Then we got her eyebrows waxed. I know, I know, she's only nine, but she's soon to be ten and that unibrow was beginning to get to me as well. Plus, it was ammo for her older brother and he is the Supreme Teaser. He doesn't need any more ammo.
Hubby worked today (Ka-ching!) and it's all OT baby. We like that. He was happy as well. He could have worked tomorrow as well, but we would rather not work on the Sabbath. I got a phone call asking me to come to choir tomorrow at five. I said I would. I just hope my back allows me to do so. Dang skeleton of mine!