Someone asked that I give an update on the white kitten. Her name is Angel Puss and here she is in all her glory.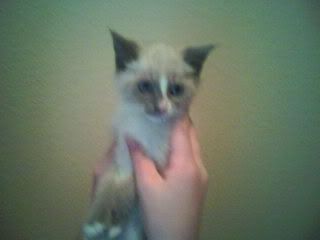 Angel Puss will be leaving us on Monday with one of her brothers to live with the lady that gave us the parents of our kittens last year. It will be nice to be able to see our kittens from time to time. One of the other brothers will be going to a family up north and I believe we're going to keep the one my children have named Twitchy. We don't think Twitchy is all there, mentally speaking. Since he seems a bit daft we'll care for him so as not to worry that someone would mistreat him for being a bit slow.
Here are three of the four playing on a couch up in our loft.