We all went to church this morning. It was a miracle! I had such back spasms last night that I took a pill, then an hour later I took two more. I know, I know. Bad idea, but I had some serious back spasm action going on and the pain was unbearable. This meant that waking up in the morning was three times harder than usual. Did I mention that I'm not a morning person? We all made it, after the kids woke up and found that the Easter Bunny had visited each of them. The girls each got a new dress and matching purse, Chris got two shirts and Steph got some health food. This on top of their Easter Basket candy with requisite chocolate bunny.
Then we dashed home, I made deviled eggs and a veggie tray to take to Julie's (my sister) house. We also brought a spiral ham.
Here's a picture of my two girls, Allison and Ashley in front of the fireplace at Julie's house.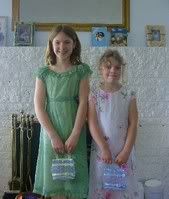 Here are my sister's two girls, Jessica and Nicole with Ally and Ash.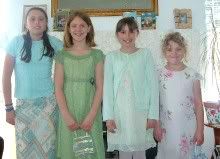 And here is the only picture I got of Stephanie all day.
Ally didn't feel well a lot of the time while we were there and spent a good portion of time on the couch wrapped up in a blanket. She felt really awful by the time we got home so I gave her some more medicine and popped her into a hot bath. That helped she said.
And tomorrow....I get my daycare boys back. They got home from Hawaii this morning around six. I'd made their Easter baskets and put them in their house so they saw them when they got home. It was really fun to do that for them. Steph will be home most mornings this week due to the
WASL
going on in the schools. I think I'll leave the boys here with her this week in the mornings so I can go to the pool and swim without having to put them in and out of the van. My back is still pretty messed up and picking up Dillon will only cause me more pain.