I spent the night in the ER with my little girl Ally. She was doubled over in pain and they thought it was acute appendicitis. After they gave her some morphine in her IV, they ran tests on her. The poking and prodding she recieved did not amuse me. It seemed like everyone that came in the room had to touch her poor tummy.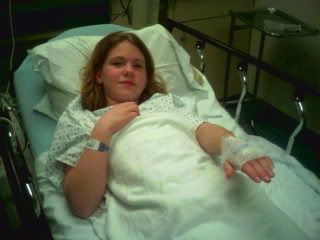 To make a long story (ten hours) short, after the CT scan they said her appendix was fine but she has mesenteric adenitis. This means the lymph nodes in her abdomen are swollen, inflamed, painful. This is often misdiagnosed as acute appendicitis. The causes of this include a bacteria called Pseudotuberculosis (Yersinia), which can arrive in the form of contaminated food. There are issues after the infection has passed which concern me. One which can occur has rheumatological ramifications.
At any rate, it's been a long night and day and I think I'll go curl up with my baby girl for a bit.