This
has not been fun.
First the flooding. Then the wind. Oh my, the wind. I can honestly say I've not heard wind the likes of that in quite a few years. We were without power since Thursday and it finally came back on today, Saturday. Of course after the power went out, Mother Nature decided to send us Frosty the Snowman. There was no actual snow, just freezing temperatures. You could see your breath in our home. Brrrrr.
Since we had no big trees near our home, we were lucky in that no trees fell on us. My father was not so lucky.
Remember my post about my baby girl learning to ride a bike? And she sort of fell into my father's pride and joy truck? Well, guess what happened to his baby? Ayup.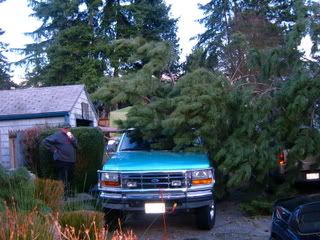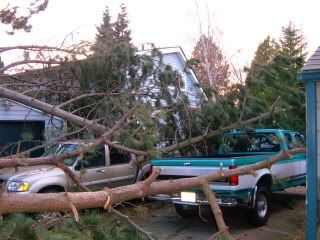 The neighbor's tree, and not even the
entire
tree, fell on another neighbor's garage, his truck, my father's truck, my father's Lincoln (which used to be my mother's car) and also crushed a camper behind my father's garage.
Here's a view from the back of the house.Thankfully it missed my father's
lawn ornament
boat.
The front of my father's house did not escape the storm. A rather large tree blew down there, thankfully away from the house.
We left our two youngest girls with my sister up in Seattle. She had power and warmth, so they were well taken care of. Thanks Julie! You may view more windstorm pictures
here
from around the region.
I'm quite certain this was God's way of getting me to clean my refrigerator out. I'm just sorry that the rest of you here in the Pacific NW had to suffer because of me. My refrigerator is now clean and quite nearly empty. You're all safe.