Picture this......forty gazillion people in a small room, listening to children (and one adult) play in a Christmas Piano Recital. You'd think it would be uncomfortable, right?
Well, ok. My bottom was hurting by the end of the program, but it was well worth the pain to see the joy on the children's faces and the pride on their parent's mugs. Unbeknownst to me, my SIL Tara took a short video of Allison doing her rendition of
The Twelve Days of Christmas
for the crowd. We heard various renditions of Jingle Bells and Silent Night, but Ally was the only one to play what she played. Here's the video. If you don't have cable Internet, it might not work for you, so feel free to skip it. I'm not sure why she played this song, as it wasn't quite ready for prime time. You should hear her play a song from
Pirates of the Carribean
. She rocks on that one.
If you can't or won't view the video, then a pox upon you. Ok, not really. I've given up wishing a pox on anyone. I believe that wishing a teenager upon them is a much worse fate and has longer lasting consequences. So a teenager upon you.
And while you're awaiting the arrival of the Terrible Teenager, here are some pictures to amuse and amaze you.
Here is Allison with her piano teacher, a wonderfully sweet hearted woman.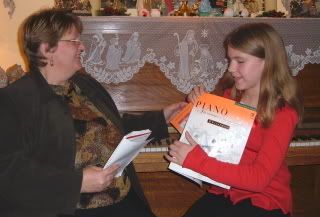 Not to be outdone musically, Cute Hubby posed with Adorable Son, aka Surly Teenager at times, in their Pink Floyd shirts while jamming on their guitars.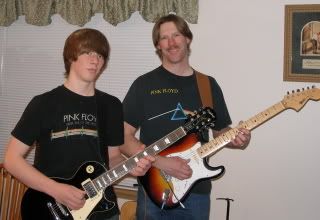 .
The girls insisted upon wearing their Christmas outfits to the recital.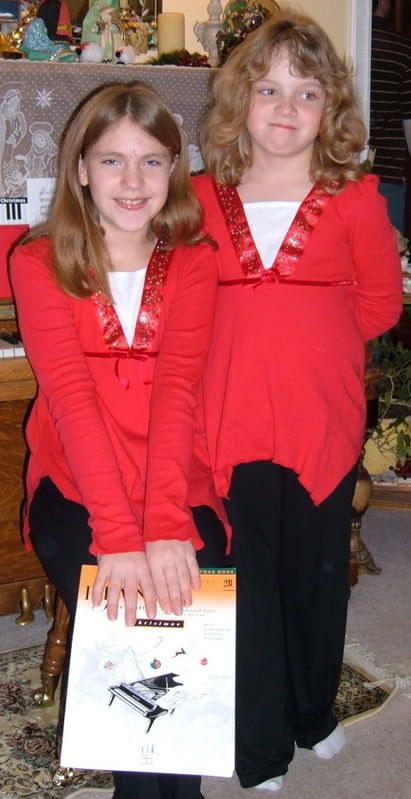 And now, for the big attack of cute. Our kitten, Buttercup.
And just in case any of you were wondering about Surly Teenager. He's also Quite Cute Teenager at times. I love my boy and I was on the recieving end of one of the best hugs ever from him this morning. It almost makes it all worth it.