Today was the annual Christmas ship ride around Elliott Bay, off the Seattle waterfront. It's for special people of all ages and their families. We go every year with my sister Cheri.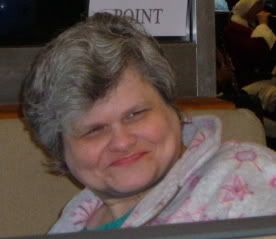 It's filled with Marines, Army, Coast Guard, Fire fighters and EMTs. (This is usually why my seventeen year old agrees to go). There's a band on each end of the large ferry boat, the
Seafair Pirates
, who hand out stickers, chains, necklaces and other pirate booty. My niece Nicole, Ashley and Allison managed to get quite a bit of plunder from them. Before the pirates would give them the booty, they made them shake their booties in dance.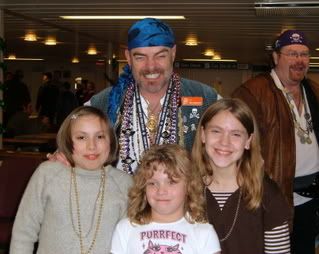 One of my sister Cheri's favorite special friends, is Wayne. Wayne is never seen without one of his trademark ties except during the Christmas season when he dresses up as Santa. Wayne has some pretty wild moves with his dentures and I was afraid at times that they were going to fly out of his mouth and smack me in the head. Thankfully they stayed put in his mouth.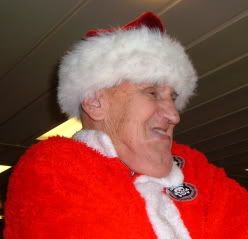 My husband and I were there with our four children, as were my father and my sister with her four children. We lined them up from oldest to youngest. Here they are. From left to right it's Stephanie, Cameron, Cody, Christopher, Jessica, Nicole, Allison and Ashley Rose.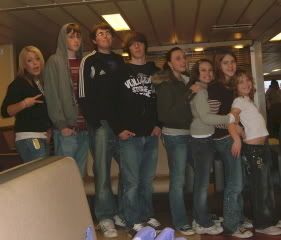 Here's Ashley on her daddy's lap, checking out a magazine the pirates gave her. I was afraid to ask her what they made her do to get it.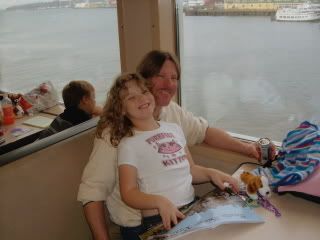 Peek-a-boo, I see you! My father wouldn't let me take his picture.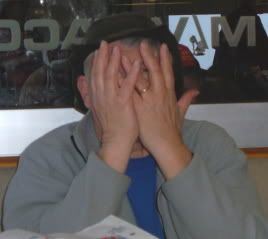 There was a particularly touching moment when a young couple came up to me. The woman was holding out her hand, as any blushing newly-engaged woman would, and she had an enormous smile on her face. "I'm engaged! I'm getting married!" I looked at her pretty gold band and told her how beautiful it was. Her finace' stood silently beside her, resplendent in his army uniform. When I asked if they'd allow me to take their picture, she said yes. As I snapped it, the man saluted. They both have
Down's Syndrome
.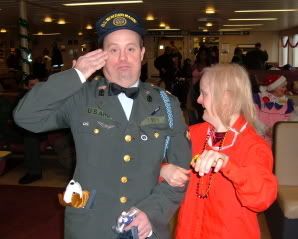 After a sack lunch, more music and fun, the cruise around the bay was over. On the way out, all the children and special people were given stuffed animals by the military as they disembarked. Ashley was handed a pig and Ally a bear. Poor Ash, her little face turned to me and looked like she was about to cry.
"M-m-mom, I didn't want a p-pig" I told her I knew she'd wanted a teddy bear so as we passed the next man in uniform I asked him if we could exchange the pig for a bear and he was more than happy to allow Ashley to find a beautiful white bear and all was right with the world.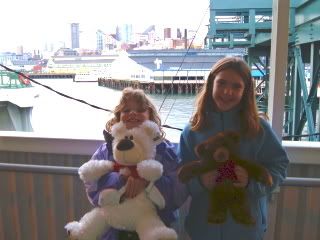 It was a beautiful day, spent with beautiful people.