How many days till Christmas? Just ask my ten year old. She's been responsible, with no encouragement from anyone, for keeping us current on the countdown. She put this up on our kitchen wall and she changes it every morning.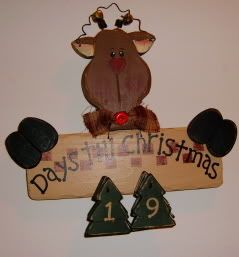 As you can see, we are 19 days out. Have I done any shopping? Heck no. Have I begun my baking? Heck no. I did get one Christmas column out to my editor, but I don't believe that counts for anything with the kids.
So, 19 days and counting. I've gotten several Christmas cards already from over achievers out to ruin my self esteem. It's working.
So, here's my question to you all. How much have you gotten done? How much more do you have to do? And who would like to adopt my children and be responsible for buying them their Christmas gifts? If there are a lot of you out there offering, I'll have to draw names out of a hat, so don't be upset if you're not picked. I only have four children. Good luck!