See the pretty truck in this picture? With the pretty blond inside of said truck?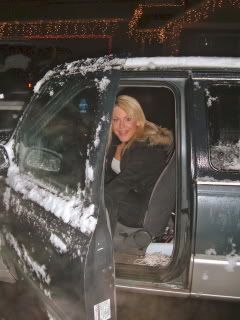 The blond is fine, but the truck is DOA. It appears that the head gasket has blown. We are not in a position to do anything about it. Yay us!
Now there's the problem of how to get The Teenagers To Seminary, School, College, Work, etc. School starts next Tuesday.
....Happy New Year to meeeeeeeeee.....Happy New Year to meeeeeeeeeee......
Ah yes. 2007 is looking like fun already!
Edit: After much consideration I've realized that there is a higher purpose to this whole thing. The demise of the truck is God's way of keeping my daughter from driving over to her boyfriend's house. He does work in mysterious ways, doncha think?