Hot Hubby took three girls out on the town today. I was not included in the romp. Two blondes, and a brunette were on his arm. He took them to lunch at
Ivar's
downtown on the Seattle waterfront. He was honest about his activities today, and even took pictures to document his day.
Here is one of the blondes and the brunette, feasting upon fish and chips.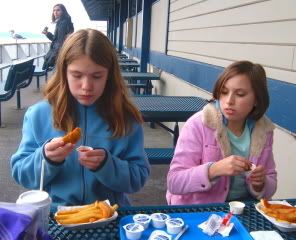 Here's the second blond, sitting with Ivar himself.
Ok, Ivar is dead, but that's another story. As you can see, Hot Hubby has excellent taste in lunch partners. He also took them for a ride on the carousel at Westlake Center.
Then things went to the pigs. At the Pike Place Market. Here's one of the cute blondes with the Pike Place Pig.
Here's the brunette with the same piggy.
Yes, I was home, slaving away, while they were out having fun.
...slaps back of hand to forehead in dramatic fashion....
And yes, we still have snow out here in the boonies.